You Will Meet a Tall Dark Stranger - User Reviews
Thank you for rating this movie!
Read your review below. Ratings will be added after 24 hours.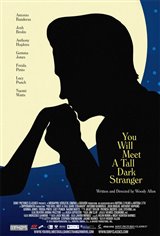 ---
Please rate movie 1 to 5 stars
Showing 1 to 22 of 22
August 01, 2011
not one of allen's memorable film - may be one of his worst actually...story was disjointed...the narration was weak and the performances were sub par
February 08, 2011
This movie is ridiculous!!
January 16, 2011
This MOVIE is too much like our lives today - didn't like it. Only have to look at our family or neighbours to see the hurt - DON'T have to go to see this movie. Would not recommend anyone to spend their money.
January 14, 2011
not sure if it's even worthy of a rental
January 11, 2011
SO AND SO
January 10, 2011
NO DON'T LIKE IT
January 06, 2011
They're showing that even though you meet mr/mrs. right as you think--it can blow up in your face. It's like a fantasy or dream come true which you enjoy for awhile then poof it's gone. Things in life aren't what they seem and not permanent.
January 03, 2011
It was ok, but don't find it to be a memorable film. What can I say it was ok.
December 31, 2010
average
December 29, 2010
mediocre at best
December 24, 2010
no chemistry among the cast...... would pass on this movie
December 22, 2010
Most of the actors were excellent, with only a couple of very week characters. Very well done. Message at the end: not everything is like what it appears to be. Images can be deceiving. I appreciated the fact that it did not end in a neat Hollywood fashion.
December 22, 2010
How can you go wrong with a cast like this and Allen directing!
December 20, 2010
Not a movie I would recommmend over Christmas.I do like Bandera and Hopkins,but both of these fine actors failed to pull it off. The theme of adultery is a dismal one,and Woody did not help much. I would give this movie a pass.
December 19, 2010
It was pretty good. I enjoyed it but I do hate the theme of adultery. Even so, it was entertaining, interesting and kept my attention.
November 28, 2010
Hilarious
November 09, 2010
Personally, I found this movie to be sad, disappointing and depressing. The preview trailer pretty much gives away all the (much too rare) laughs. You leave the theater feeling like "That's it?" The two stars is for the acting ability of the cast, but even they can only do so much with this. If you are a diehard Woody Allen fan, or like sad comedies about pathetic characters, have at it. Otherwise... give it a pass.
November 09, 2010
That's two hours I'll never get back. What a stinker. So sad to see Woody losing his touch.
October 09, 2010
Another home run by Woody Allen. This relationship exposé hits the mark as the all-star cast doesn`t disappoint.
October 05, 2010
an excellent cast of actors.
October 04, 2010
Getting good reviews - classic Woody Allen!!
October 01, 2010
This money looks very entertaining, great cast, and funny.