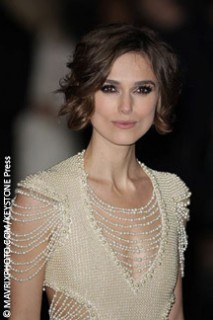 The guest list of filmmakers and actors who will be attending the 37th Toronto International Film Festival has just been announced. This September, the red carpet will be rolled out for hundreds of guests from all over the world. Some filmmakers who will present their premieres in Toronto include: Rian Johnson, Ben Affleck, Francois Ozon, Stephen Chbosky, Bahman Ghobadi, Zhang Yuan, Dustin Hoffman, and Rob Zombie.
Actors expected to attend to promote their latest films include Bruce Willis and Joseph Gordon-Levitt for Looper, Tom Hanks and Halle Berry for Cloud Atlas, Bradley Cooper and Jennifer Lawrence for Silver Linings Playbook, Keira Knightley for Anna Karenina, and Jake Gyllenhaal for End of Watch. Other celebrities scheduled to attend include: Ryan Gosling, Robert De Niro, Gwyneth Paltrow, Selena Gomez, James Franco, Will Smith, Kate Hudson and Johnny Depp.
The festival will also welcome thousands of producers and industry professionals who bring films to us. The following guests are just a sample of who are also expected to attend: Penn Badgley, Pierce Brosnan, Jackie Chan, Zac Efron, Ice-T, Hugh Laurie, Emma Watson, Snoop Lion, Jude Law, Kristen Wiig, Adam Sandler, and Alexander Skarsgard.
Here is the full list of attendees expected:
Filmmakers include: Rian Johnson, Noah Baumbach, Deepa Mehta, Derek Cianfrance, Sion Sono, Joss Whedon, Neil Jordan, Lu Chuan, Shola Lynch, Barry Levinson, Yvan Attal, Ben Affleck, Marina Zenovich, Costa-Gavras, Laurent Cantet, Sally Potter, Dustin Hoffman, Francois Ozon, David O. Russell, David Ayer, Pelin Esmer, Tom Tykwer, Lana Wachowski, Andy Wachowski, Andrew Adamson, Michael McGowan, Bahman Ghobadi, Ziad Doueiri, Alex Gibney, Stephen Chbosky, Eran Riklis, Edward Burns, Bernard Émond, Zhang Yuan, Michael Winterbottom, Mike Newell, Miwa Nishikawa, Margarethe Von Trotta, David Siegel, Scott McGehee, Gauri Shinde, Goran Paskaljevic, Baltasar Kormákur, J.A. Bayona, Rob Zombie, Peaches and Paul Andrew Williams.
Actors include: Bruce Willis, Joseph Gordon-Levitt, Jackie Chan, Tom Hanks, Halle Berry, Bill Murray, Robert Redford, Riz Ahmed, Ryan Gosling, Robert De Niro, Stephen Dorff, Dennis Quaid, Jennifer Connelly, Billy Bob Thornton, Bradley Cooper, Penelope Cruz, Marion Cotillard, Colin Firth, Kate Hudson, Kiefer Sutherland, Gwyneth Paltrow, Viggo Mortensen, James Franco, Javier Bardem, Hiroshi Abe, Elle Fanning, Adam Sandler, Andy Samberg, Zhang Ziyi, Greta Gerwig, Helen Hunt, Laura Linney, Logan Lerman, Keira Knightley, Mads Mikkelsen, Jake Gyllenhaal, Zhang Ziyi, Jennifer Lawrence, Julianne Moore, Greg Kinnear, Gael García Bernal, Sridevi, Saoirse Ronan, Selena Gomez, Salman Rushdie, Sam Rockwell, Naomi Watts, Will Smith, Johnny Depp, Terence Stamp and Vanessa Redgrave.
Speakers and documentary subjects: Ice-T, Thelma Houston, Janice Stein, Michael Ignatieff, Angela Davis, Slavoj Žižek and Snoop Lion.
Tags:
Gwyneth Paltrow, james franco, Kate Hudson, robert de niro, ryan gosling, Selena Gomez, Will Smith