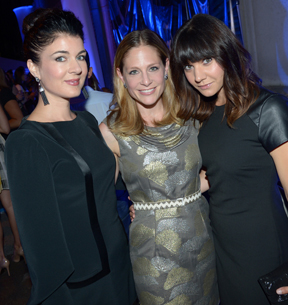 The official vodka of TIFF hosted a star-studded, spectacular Moulin Rouge-meets-Cirque du Soleil outdoor soirée on September 5th.
Last night SKYY Vodka welcomed guests including Olympic Gold Medal Trampolinist Rosie MacLennan, Corner Gas stars Gabrielle Miller and Tara Spencer-Nairn, actor Lyriq Bent, rocker Mark Holmes, TV personalities Hilary Farr and Nicole Holness and model Stacey McKenzie to "Blue Alley" for the Official-Unofficial Film Festival Kick-Off Party! The official vodka of the Toronto International Film Festival hosted a dazzling, glam-bizarre Moulin Rouge-meets-Cirque du Soleil feast for the senses featuring an array of intriguing entertainment including dance troupe Urbanesque performing on the dramatic SKYY Stairway, acro-contortionists, hand balancers, and giant SKYY glamazons.
Beats were provided by DJ Miss Kittie while guests toasted the Festival with SKYY Vodka's official TIFF cocktails. Every year, SKYY Vodka pays homage to Canadian and international film talent by creating official Festival cocktails featuring the world's smoothest vodka. This year's cocktails include the SKYY White Knightley featuring a unique mix of white cream soda, lemonade and lemongrass, the SKYY Good as Gosling, offering a refreshing mix of watermelon blueberry juice, lime and mint, and the SKYY Peach Paltrow which combines peach juice and basil with the smooth stylings of SKYY Vodka.
Tags:
gabrielle miller, Mark Holmes, Stacey McKenzie, Tara Spencer-Nairn