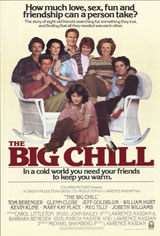 A 30th anniversary definitely calls for a celebration party, which is exactly what the Toronto International Film Festival is hosting for the cast and crew of The Big Chill.
The comedy-drama film first premiered in 1983 at TIFF and went on to win the Festival's prestigious People's Choice Award and garnet three Academy Award nominations for best film, screenplay and supporting actress. The film follows a group of college friends who reunite one weekend after the funeral of one of their own. It went on to be a classic and generated a soundtrack of 60s-era hits that became massively popular.
"In addition to helping its stars break through and its influence on cinema generally, The Big Chill represents a landmark in TIFF's own history," says Piers Handling, Director and CEO, TIFF. "It showcased the Festival's ability to seek out and attract up-and-coming contemporary classics as well as our audiences' ability to predict hits through the People's Choice Awards, and helped the Festival move to the forefront of the international landscape."
The anniversary this year will be celebrated with a screening of the newly restored 4K version of the film followed by an extended Q&A with the cast and crew. Actors Glenn Close, Tom Berenger, Meg Tilly, Mary Kay Place and JoBeth Williams, director/writer Lawrence Kasdan, screenwriter Barbara Benedek, executive producer Marcia Nasatir and producers Meg Kasda and Michael Shamberg will all be in attendance.
The Big Chill will screen on Thursday, September 5 at 7 p.m. at the Princess of Wales Theatre.
Tags:
Glenn Close, JoBeth Williams, Lawrence Kasdan, Mary Kay Place, Meg Tilly, The Big Chill, Tom Berenger