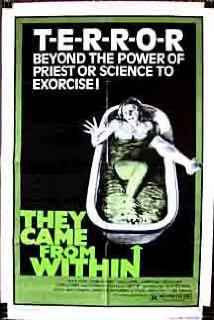 A new digital restoration of David Cronenberg's controversial 1975 feature film, Shivers, will make its world premiere at the Festival. The restoration of Shivers was commissioned by TIFF in celebration of the comprehensive film exhibition of the director, titled David Cronenberg: Evolution, coming to TIFF Bell Lightbox November 1. Cronenberg will be making a special appearance to introduce the film to Festival audiences. Other TIFF Cinematheque special guest introductions will be announced soon.
Other works include a rare preservation print of Joseph H. Lewis' film noir classic Gun Crazy; Yasujiro Ozu's final film An Autumn Afternoon; a special screening of Lino Brocka's Manila in the Claws of Light—considered by many critics to be the best Philippine film ever made; Roberto Rossellini's 1945 film about the Nazi occupation of Rome, Rome Open City; Alain Resnais' epochal masterpiece that has been hailed as "the first modern film of sound cinema," Hiroshima mon amour; and finally Chris Marker and Pierre Lhomme's penetrating portrait of Paris and Parisians during the month of May in 1962, Le Joli Mai (The Lovely Month of May).
Led by Brad Deane, Manager of Film Programmes, the lineup includes selections by the TIFF Cinematheque programming team of James Quandt, Noah Cowan and Jesse Wente. TIFF Cinematheque is now in its 23rd year. "We are thrilled to present some of the great masterpieces in the history of world cinema in wonderful new restorations at this year's Toronto International Film Festival," said Deane. "Seeing these films alongside the rest of the Festival selection not only reaffirms their important influence but also proves Jean-Luc Godard's adage that classic = modern." Tickets to all TIFF Cinematheque screenings during the Festival are complimentary and will be distributed at the TIFF Bell Lightbox Box Office on a first-come, first-served basis two hours before each film screening. The 38th Toronto International Film Festival runs September 5 to 15, 2013.
Tags: