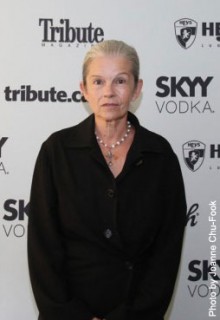 Ten Canadian women directors and actors who have had an outstanding year have been selected for tribute by a national panel of arts, culture and entertainment journalists. They will be honored September 11, 2013 at the Maison Birks on Bloor Street West in Toronto during the first
Birks Diamond Tribute to the Year's Women in Film,
in partnership with Telefilm Canada. Directors Louise Archambault, Deepa Mehta, Alanis Obomsawin, Sarah Polley and Chloé Robichaud, as well as actresses Evelyne Brochu, Genevieve Bujold (pictured at left), Sarah Gadon, Jessica Paré and Alison Pill were chosen for this honor.
The committee chose five honorees in each category from a list of nominees, taking into account the impact of their achievements and their talent; the recognition they have received from recognized organizations as well as from their peers; and the visibility they have brought Canada over the last year. Nominees were also required to have either directed or appeared in a production during the past year.
"This partnership with Maison Birks offers us a new opportunity to recognize these remarkable women's artistic talent and the major contribution they provide to our industry," said Carolle Brabant, Executive Director of Telefilm Canada. "Because the world's attention is focused on the Festival, the time is perfect to celebrate the successes of our creative talent, who distinguish themselves not only in Canada but around the world."
"We are delighted to renew our partnership with Telefilm Canada this year in order to highlight the important contribution of Canadian women filmmakers in the context of the Festival," said Jean-Christophe Bedos, President and CEO of Birks  & Mayors. "Canadian women filmmakers and actors help our country shine brilliantly around the world—the same way that Canadian diamonds make us proud on the international scene! The Toronto International Film Festival is synonymous with glamour, with prestige, and especially with Canadian success. That's why this partnership is a natural for Maison Birks."
Tags:
Alanis Obomsawin, alison pill, Chloé Robichaud, deepa mehta, Evelyne Brochu, Genevieve Bujold, jessica pare, Louise Archambault, sarah gadon, sarah polley