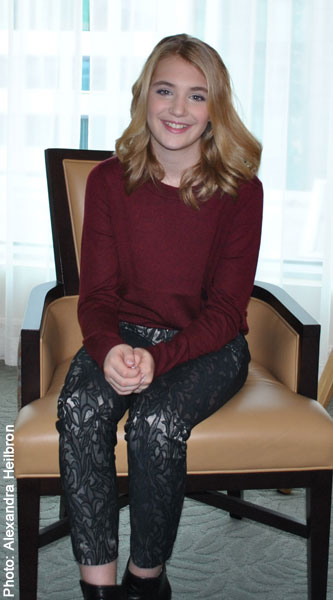 Less than a month away, the 41st annual Toronto International Film Festival is kicking into high gear, recently announcing its first lineup of Special Galas and Presentations, as well as its official opening film.
Now, TIFF has introduced its newest Rising Stars: Jared Abrahamson, Grace Glowicki, Mylène Mackay, and Sophie Nélisse (pictured left). These four up-and-coming actors have been specially selected to participate in the 2016 TIFF Rising Stars Programme.
"Canadian talent have proven themselves among the best in the world," said Cameron Bailey, Artistic Director of TIFF. "We are truly proud to connect this year's TIFF Rising Stars with the global film industry, offering them an international platform for showcasing their work and a launch pad to develop their careers."
The four Rising Stars will take part in a series of specialized programming that includes media training, seminars with casting directors, one-on-one meetings with filmmakers, as well as a series of unique networking opportunities, all organized by TIFF's Industry team.
In addition to its homegrown talent, TIFF will also be announcing its first-ever roster of international Rising Stars in the coming weeks.
TIFF's Rising Star Programme has produced some major Canadian talent in past years, including alumni Sarah Gadon (Maps to the Stars, Enemy, Belle), Tatiana Maslany (Emmy-nominated star of Orphan Black), Stephan James (star of the biopic Race), Connor Jessup  (American Crime, Closet Monster) and Shannon Kook (Dark Places, The Conjuring 2).
Find out more about this year's Rising Stars below:
Sophie Nélisse
Born in Windsor, Ontario and raised in Montreal, Quebec, Sophie, 16, has already earned herself a Genie Award for her work in the Oscar-nominated drama Monsieur Lazhar (2011). The young star is best known for starring in the war drama The Book Thief (2013), and can now be seen in Mean Dreams (TIFF 2016 selection), The History of Love (2016), Wait Till Helen Comes (2016), and 1:54 (2016). This month, she begins filming a starring role in the film adaptation of the novel Et Au Pire On Se Mariera.
Jared Abrahamson
Born in Flin Flon, Manitoba and currently residing in Vancouver, British Columbia, Jared is best known for his work in the Hallmark Hall of Fame film Finding a Family (2011). The young actor has had a very busy year, filming roles in Keep Watching (2016), Hello Destroyer (TIFF 2016 selection), Gun (2016), Veracruz (2016), and Never Steady, Never Still (2016). He will soon be seen on the Netflix/Showtime drama series Travelers.
Grace Glowicki
Based in Toronto, Grace is an actor, writer, and director whose performance in Ben Petrie's Her Friend Adam (2016) won her a Special Jury Prize for Outstanding Performance at the Sundance Film Festival. Her upcoming work includes starring roles in the crime thriller Cardinal (2017) and the drama Suck It Up (2017), as well as Tito, a film that marks her directorial debut.
Mylène Mackay
Quebec-born Mylène is an actor and comedian who worked mainly in theatre and television until she landed her breakout role in André Turpin's 2015 drama Endorphine. The talented actress can soon be seen in André Forcier's Embrasse moi comme tu m'aimes (2016), and the title role in Anne Émond's biopic Nelly (TIFF 2016 selection), based on the life of and work of author Nelly Arcan.
Tags:
Connor Jessup, Grace Glowicki, Jared Abrahamson, Mylène Mackay, Rising Stars, Rising Stars Programme, sarah gadon, Shannon Kook, Sophie Nélisse, Stephan James, Tatiana Maslany, tiff, TIFF 2016