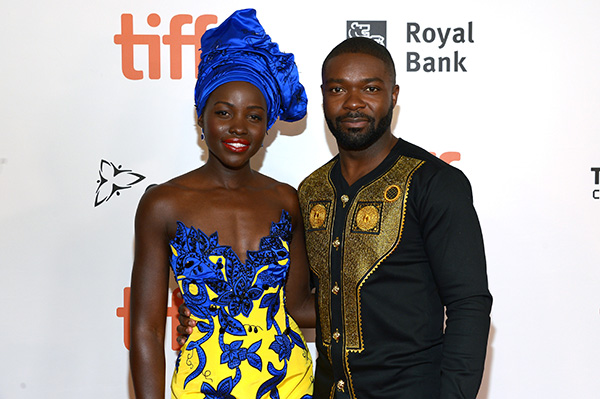 The stars of Disney's Queen of Katwe brightened up the red carpet at Roy Thomson Hall in Toronto last night (September 10).
David Oyelowo and Lupita Nyong'o, along with Mira Nair and the film's real-life inspiration Phiona Mutesi, were pretty much all smiles while debuting their true-life sports drama.
Directed by Nair, Queen of Katwe tells the true story of 10-year-old Mutesi (played by newcomer Madina Nalwanga) whose natural gift for chess takes her on a journey from her humble life in Katwe to becoming a world chess champion. Lupita plays Phiona's mother, Harriet, while David plays her mentor, Robert Katende, who was also in attendance with his wife and daughter, Sarah and Hope.
"I really think anyone and everyone who's had a dream or has a talent, will fight harder for that to find their true expression – and for people who can help people who are in that state," David told Global News ahead of the film's world debut.
"This mentor helped this girl to her destiny as a chess champion. Someone who really sacrificed himself to do that. That was done for me. I wouldn't be standing here if I didn't have people who encouraged me with what they saw in me when I was younger."
Take a look at the premiere's photos below!~Shelby Morton
All photos courtesy of George Pimentel/WireImageGetty
Tags:
david oyelowo, lupita nyong'o, Mira Nair, Phiona Mutesi, Queen of Katwe, Robert Katende, tiff, TIFF 2016