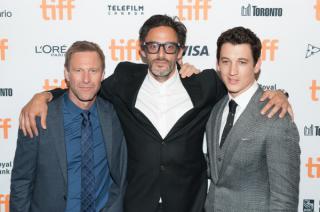 Miles Teller and Aaron Eckhart, stars of Bleed for This, are officially out of the boxing ring and back in A-list actor mode.
The men walked the TIFF red carpet Monday night, along with director Ben Younger, at the Princess of Wales Theatre before their film premiered at 9:30 p.m.
Bleed for This, shot in Providence and based on a true story, follows the inspiring comeback of Rhode Island boxing legend Vinny Pazienza after a devastating car crash left him severely injured in the early '90s. 
Miles and Ben chatted with The Boston Globe before the premiere and revealed that while Vinny was welcome on set, he was rarely around. Shooting for hours and wrapping with only a few minutes of footage was something Vinny found boring.
Despite this, he was more than happy to help Miles understand what it was like to function with a metal rod brace attached to his head, as Vinny wore throughout his recovery.
The film, which co-stars Katey Sagal and Ciarán Hinds, releases in theaters on November 23, 2016.
Check out photos from the premiere below! ~Matthew Pariselli
All images courtesy of CheRosales/WireImageGetty.
Tags:
aaron eckhart, Ben Younger, Bleed for This, Ciarán Hinds, Katey Sagal, Miles Teller, Vinny Pazienza