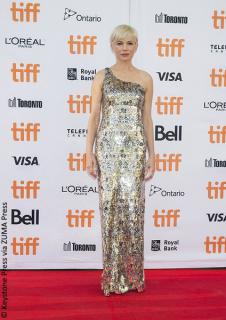 It seems appropriate for Michelle Williams, who's been generating Oscar buzz for an outstanding performance in Manchester by the Sea, to wear an awards-worthy gown to her film's TIFF premiere.
The pixie blonde haired Academy Award-nominated actress dazzled crowds in a stunning, sequined shimmery dress at the Princess of Wales Theatre on Tuesday evening. She was joined on the red carpet by co-stars Casey Affleck, Kyle Chandler and Lucas Hedges; director Kenneth Lonergan; and the film's co-producer, Matt Damon (John Krasinksi  is another co-producer). The film screened at 6 p.m.
Manchester by the Sea is an emotional drama about a handyman forced to confront his painful past when he returns home to Massachusetts after the shocking death of his older brother.
While discussing the film on the red carpet, Matt said, "I think people will have a really personal experience with this movie because it gets you in touch with your own stuff. The best movies do. And people will probably take away that Kenny Lonergan is pretty much a genius."
Casey also praised his director, and said that he credits Kenny for helping him "grow as an actor."
The film, which co-stars Gretchen Mol and Matthew Broderick as well, sails into select theaters on Nov. 25, 2016.
Check out photos from the premiere event below! ~Matthew Pariselli
Tags:
Casey Affleck, Kenneth Lonergan, Kyle Chandler, Manchester By The Sea, matt damon, michelle williams, tiff, TIFF 2016