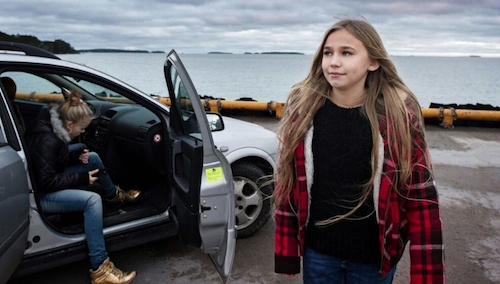 In her feature film debut, Finnish actress Linnea Skog expertly leads an ultra-talented cast as the precocious heroine Varpu in the Finnish coming-of-age drama Little Wing. 
The 13-year-old newcomer is in Toronto to promote the film, which will continue screening tomorrow (September 16) and Sunday (September 18) as part of TIFF's Discovery lineup.
Directed by Oscar-nominee Selma Vilhunen, Little Wing follows 12-year-old Varpu, whose insecurity with her dysfunctional home life and unorthodox relationship with her mother (Paula Vesala) sets her on a long journey to find her biological father (Lauri Maijala). Along the way, she discovers much more than she bargained for — herself.
Tribute's Shelby Morton chatted with the talented teenager about her first foray into acting, her experience filming alongside Selma Vilhunen, and who she's dying to work with in the future.
So you're only 13 years old and you're already starring in your own film. That's pretty nuts!
Haha. Yeah, it is!
Did you always know that you wanted to be an actress?
I mean I've known for quite a long time, my father and my grandfather both are actors, so ever since I was a baby I've been in the theater with my father, and I've seen a lot of the movies that my grandfather has been in. Way before Little Wing, I always wanted to be in a movie, so I've known for quite a while, yes.
Based on your stunning performance, I believe audiences are going to be shocked that this is your very first feature film. How did the role of Varpu come to you?
I've been on a lot of auditions but I've always been the wrong age. Then this came up, but because I've never gotten the other roles, I said, "No I don't want to go, I'm not going to get it" but my father was like, "Come on, let's try one more time." So I went in for an audition ... and then my father got a text, "We would like Linnea to come another time." Then I met Selma for the first time, and I did the audition live for her. Then I did a third audition, and then Selma told me I was going to be Varpu.
And what did you do?
I felt amazing. I was very, very happy. I just can't describe it. It was one of the best feelings in the world.
Varpu was a pretty emotionally heavy and mature role. What did you do to prepare for it?
We had a lot of rehearsals before starting to do anything. I had a lot of rehearsals with Lauri [Maijala], Paula [Vesala], and the other actors. And also a lot of rehearsals with just me and Paula.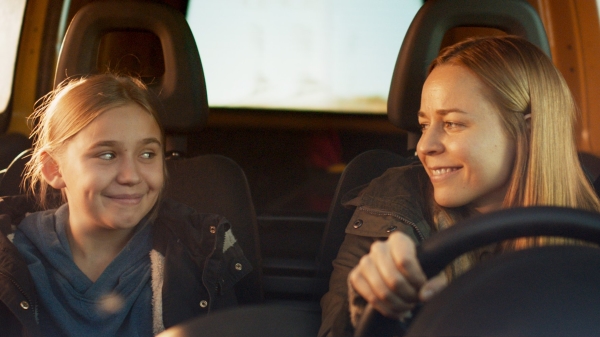 Paula has a lot of credits to her name, and is very well-respected in Finland. What did you learn from her?
She is an amazing person. As well as Selma. They are both very kind and very funny people. While we were filming, Paula and Selma were kind of taking care of me. Even though there were other people that did it on set, they were also there to take care of me, so they were very wonderful people.
So it was a great first movie-making experience?
Everyone on set was very kind. One day when my mother came to take me home from the set, I told them, "This is like another family for me." Because you are there everyday with them for a month almost, so it became like another family for me.
Did you learn anything specific about acting or the movie business?
Yeah! Quite a lot. We didn't have that much time for every scene, but it takes quite a lot of time to get the perfect scene. They put a lot of time into making a movie.
Your relationship with your mom in the film is quite complicated. You had to take on the mom role, while she acted more like a child, however your relationship was still quite sweet. How did you and Paula create that bond together? Other than rehearsals, did you spend any time together? 
Yeah, we'd hang out! We went to the mall one time. I mean, she's in Los Angeles, but when she was in Finland, we'd hang out as much as we could. And on set, every time they were reviewing the scene, we'd have fun together. Spending time together really made the bond.
Your character has a horse named Svante and also has a real knack for driving, what do you think these things meant for Varpu?
I mean, you can see in the movie, the horse is one of her best friends. She loves the horse that she's riding and it means a lot to her. The car driving almost makes the whole movie. She goes on this journey to find her father, because she can drive a car. So both of them are really important things in the movie.
On that journey to find her father, who or what do you think Varpu was hoping to find?
I think she just wanted to know the truth of "Who was the father?" like, "Who could be there for her?" Her whole life she just wants to know who her father is, and to have a father who she could rely on.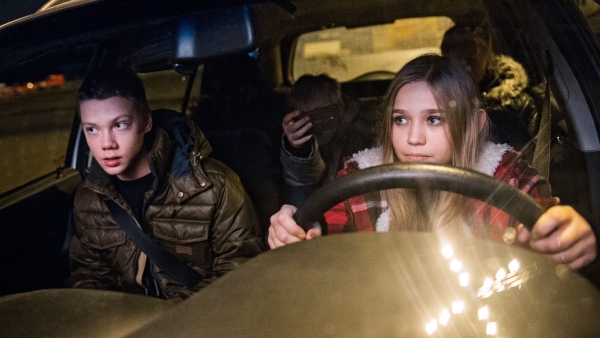 I mentioned that you obviously rode horses and drove a car, did you do any of that yourself or was it all a stunt double?
Haha. The driving scenes, the car driving away, that's a stunt double. And some horse riding scenes are also with a stunt double, like jumping. Some of them I did by myself, but I was kind of scared of jumping, so we had a stunt double. I could do some riding by myself but sometimes it was kind of scary. But, yeah, stunt doubles in both of them.
OK, time for some fun questions. If you could pick any actor in the world to act alongside, who would you pick?
That's a hard question! With some James Bond actor, probably. I love the James Bond movies, they're my favorite movies ever. I've seen all of them. Being in a James Bond movie would be amazing.
That would be awesome.
It would be so fun. But one specific actor would be Jennifer Lawrence, I love her. She is so amazing. I love her, her acting.
Very cool! So this is your first time in Toronto, and at TIFF, what has been your favorite moment so far?
We've had so much fun. I mean, just walking around here because this is a pretty big city for me. I've come from Finland, where the buildings are not this high. I mean the traffic is so different.
What's next for you? Are we going to see you in your next movie anytime soon?
I hope so!
Do you have anything lined up?
Not yet, I want to. So we'll see!
After people see Little Wing, I think you'll definitely be getting some calls. You did a really beautiful job. Thanks for chatting!
Thank you!
Little Wolf screens at the Scotiabank Theatre on Friday, September 16, at 11:15 a.m. and Sunday, September 18 at 3 p.m.
Tags:
Lauri Maijala, Linnea Skog, Little Wing, Selma Vilhunen, tiff, TIFF 2016