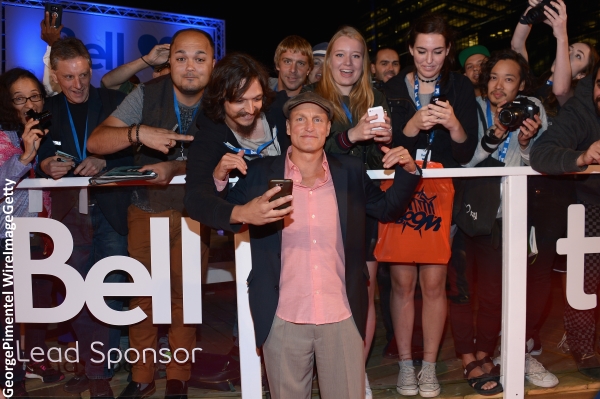 Despite starring in a drama-heavy historical biopic, Woody Harrelson was having the time of his life at the TIFF red carpet premiere of LBJ last night (September 15).
Sporting a semi-casual outfit that included a salmon-pink dress shirt and newsboy hat, Woody avoided the media but stopped to sign autographs, take selfies, and even picked up a pint-sized fan to pose for the cutest photo-op you'll ever see. The energetic actor was also joined by the film's director Rob Reiner, and co-stars Michael Stahl-David, Jeffrey Donovan and Kate Butler.
LBJ follows the true story behind controversial Texan politician Lyndon B. Johnson (played by an unrecognizable Woody), who succeeded the assassinated John F. Kennedy (played by Donovan) as the new U.S. president, and sparked a new era of civil rights and plunged the country into war.
"Lyndon Johnson was like a Shakespearean character," Reiner said on the red carpet. "He was very complex. Most people relate to him because he oversaw the Vietnam War. He's painted with that brush. Had it not been for the war, he would've probably gone down as one of the great American presidents. Why this is relevant now is we see a strain of racism that runs in our society that has been kind of submerged. Now we have a candidate on the Republican side that has unearthed all this racism and bigotry and has given voice to it."
The drama, which also stars Richard Jenkins, Jennifer Jason Leigh and Bill Pullman, is slated to release later this year.
Check out all the fun-filled pics below! ~Shelby Morton
Tags:
Jeffrey Donovan, Kate Butler, LBJ, Michael Stahl-David, Rob Reiner, tiff, TIFF 2016, Woody Harrelson