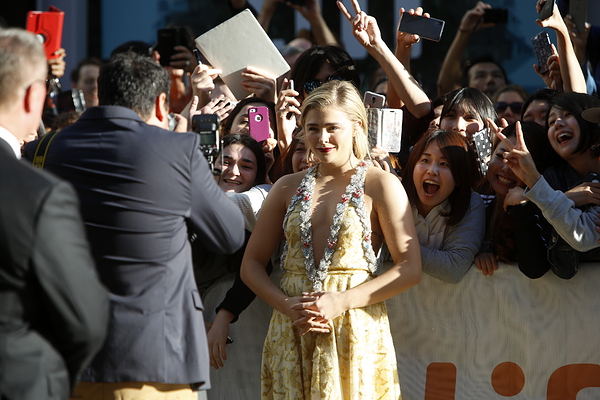 While the weather was perfectly sunny in Toronto last evening, it was Chloë Grace Moretz who lit up the TIFF red carpet for her true-story drama Brain on Fire.
Rocking a gorgeous yellow brocade gown, the 19-year-old movie star was joined by the film's director Gerard Barrett, co-star Robert Moloney, as well as the real-life woman she portrayed on screen, New York Post journalist Susannah Cahalan. There wasn't a photo without a laugh, smile, or hug with the two, as both Chloë and Cahalan appeared delighted to be walking the red carpet together.
Brain on Fire is a Canadian/Irish film that follows Cahalan through various health issues, as her state worsens from hearing voices and seizures, to sudden violence, and then ultimately to catatonia. As she descends into madness and delusion, all hope is lost until a medical miracle and an incredible neurologist, Dr. Souhel Najjar, somehow saves her life.
At the film's press conference, Chloë called her starring turn as Cahalan "the role of  a lifetime," saying, "You get to kind of break a lot of stereotypes that surround people with illnesses. I think above all, it's more than a movie about illness, it's a story about labelling and mislabelling, and misunderstanding and how far a misunderstanding can go."
Check out the red carpet photos below!
All photos courtesy of Keystone Press via ZUMA Press. ~Shelby Morton
Tags:
Brain on Fire, chloe grace moretz, Dr. Souhel Najjar, Gerard Barrett, Robert Moloney, Susannah Cahalan, tiff, TIFF 2016