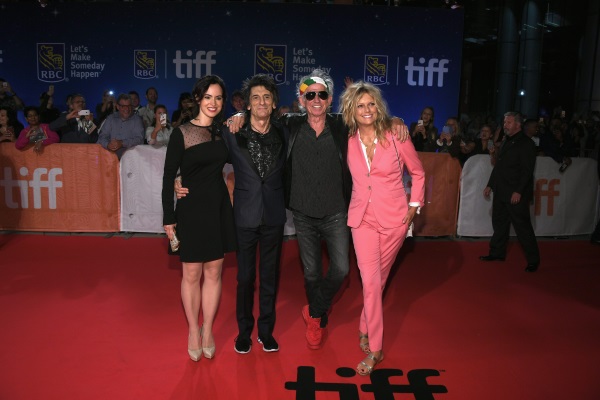 It's true that you can't always get what you want, and that sometimes you just get what you need. But for the journalists who attended the TIFF screening of The Rolling Stones Olé Olé Olé! : A Trip Across Latin America, it's safe to say that both their wants and needs were satisfied.
At Roy Thomson Hall on Friday night, Keith Richards and Ronnie Wood walked the red carpet in advance of their film's screening and graciously chatted with every reporter in attendance. Both Stones guitarists were happy to discuss their TIFF documentary, which is directed by Paul Dugdale and chronicles their band's 2016 Latin American tour.
While discussing the last stop on the tour, which was a climactic performance in Havana, both stars only had praise for the city.
Ronnie said, "We were just knocked out with the way that [the Cubans] were so heartfelt and appreciative that we made it there."
Keith added, "I loved the Cubans... It was very refreshing to see people walking around and looking at the trees instead of texting and using their phones."
Although fellow Stones Mick Jagger and Charlie Watts weren't present, Keith and Ronnie's wives joined them on the red carpet. TIFF programmer Thom Powers also attended.
Check out photos from the event below! ~Matthew Pariselli
All photos courtesy of GeorgePimentel/WireImageGetty.
Tags:
Keith Richards, Ronnie Wood, The Rolling Stones, The Rolling Stones Olé Olé Olé! : A Trip Across Latin America, tiff, TIFF 2016