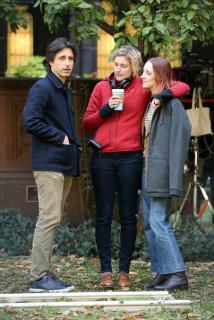 The Toronto International Film Festival announced today that Greta Gerwig's solo directorial debut, Lady Bird, will be the opening film of the Special Presentations Programme. Also written by Gerwig, the film stars Saoirse Ronan, Tracy Letts and Lucas Hedges.
"We are so pleased to announce Lady Bird as the Special Presentations opener and we know from Frances Ha and Mistress America that Greta Gerwig is an accomplished screenwriter," said Cameron Bailey, Artistic Director of TIFF." Lady Bird proves she can direct the hell out of a movie as well."
Lady Bird, which follows the adventures of a young woman in California over the course of a year, is produced by Scott Rudin, Eli Bush and Evelyn O'Neill.
The 42nd Toronto International Film Festival runs from September 7 to 17, 2017.
Tags:
greta gerwig, Lucas Hedges, Saoirse Ronan