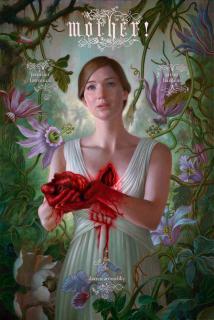 The new horror mystery mother!, directed and written by Darren Aronofsky, will screen at TIFF this year in the Special Presentations category.
Not many plot details have been divulged at this time, so the plot is a mystery, but the trailer tease, which was just released yesterday, shows us a young woman (Jennifer Lawrence) roaming around an expansive home in a slip.
We hear knocking at the door, then she asks, "What brings you to us?" A man answers that he's looking for a room because he was told the house was a bed and breakfast.
Jennifer's voice then says, "He's a stranger. Did you know he had a wife?" Another female voice says, "Who are these people?"
Someone screams, "You're insane! Murderer!" While another female voice says in a calmer tone, "God help you."
We then see Jennifer open the door, but no one is there. The full trailer will be available August 8, 2017.
Tags:
darren aronofsky, Jennifer Lawrence, mother!