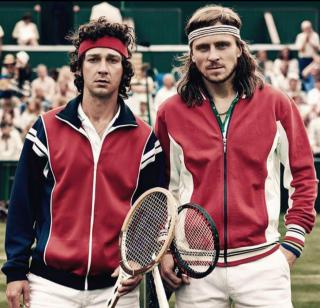 It's the official start of TIFF!
We all know that the Toronto International Film Festival hosts a grand array of soirees and celeb-packed parties, but the real reason everyone is here is for the eclectic selection of world-class films!
Kicking off the festival is the gala presentation of Borg/McEnroe. Directed by Janus Metz and starring Shia LaBeouf, Stellan Skarsgård and Sverrir Gudnason, this sports drama tells the story of the epic rivalry between renowned tennis stars Björn Borg (Sverrir Gudnason) and John McEnroe (Shia LaBeouf). The rivalry peaked when the two faced off at the 1980 Wimbledon Championships in what would become a legendary match.
Borg/McEnroe will be screening at 8 p.m. at Roy Thompson Hall with the red carpet event starting at 6:45 p.m. You can expect to see the film's stars and director taking to the carpet to a throng of fans and media. But before that, film critic Richard Crouse will be moderating a press conference with the cast and Metz at The Gallery at 3 p.m.
Another much-anticipated premiere for day one of TIFF is Michael Noer's historical drama Papillion. The film chronicles Henri Charrière's imprisonment and repeated escape attempts from the infamous prison colony of Devil's Island in French Guiana in the 1930s. Papillion has a star-studded cast with King Arthur: Legend of the Sword's Charlie Hunnam playing the role of Charrière and Mr. Robot's Rami Malek taking on the part of wealthy fellow convict Louis Dega.  
Papillion is showing at The Princess of Wales VISA screening room at 9:30 p.m. with Noer, Hunnam and Malek appearing on the red carpet one hour before at 8:30 p.m.
Other premiere screenings include Call Me By Your Name starring Armie Hammer, which is showing at the Ryerson Theatre at 7:15 p.m. with the red carpet starting 45 minutes prior, and the screening of Grace Jones: Bloodlight and Bami at the Elgin Theatre at 9:30 p.m. with the red carpet beginning at 8:45 p.m.
It's an exciting start to one the world's best film festivals, and if you haven't gotten tickets be sure to click here! Happy TIFF-ing film fans! ~Alexa Caruso
Tags:
Armie Hammer, Borg/McEnroe, Call Me By Your Name, charlie hunnam, Grace Jones: Bloodlight and Bami, papillion, rami malek, Shia LaBeouf, stellan skarsgard, TIFF 2017