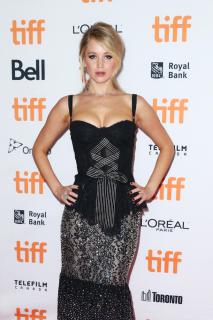 While on the red carpet talking to Tribute about her upcoming dark horror movie mother! and how it impacted her psychologically, Oscar-winning actress Jennifer Lawrence told us: "Emotionally, I had to go to darker places than I would ever want to go in my life." She added, "I don't ever want to do that again."
Another media outlet asked, "What are your red carpet rituals? How do you get ready?"
Jennifer answered, "I don't have one," adding tongue-in-cheek, "I start with underwear and work my way up," before quickly making her way into the theater for the premiere of her movie. ~Alexandra Heilbron 
Photo by George Pimentel/WireImage.
Tags:
Jennifer Lawrence, mother!, red carpet