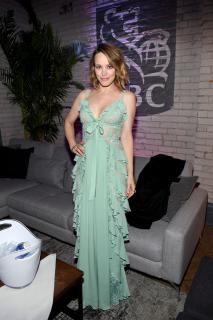 Stars of the films Disobedience and Chappaquiddick attended TIFF after parties at the RBC house to celebrate the world premieres of their films.
It was a series of star-filled soirees with Disobedience actors Rachel McAdams, Rachel Weisz and Alessandro Nivola attending the party, which featured custom Ciroc cocktails, after appearing on the red carpet for the film. Chappaquiddick actors Jason Clarke, Kate Mara, and Ed Helms also partied after the red carpet event for the film's premiere.
Disobedience tells the story of a Jewish woman named Ronit (Rachel Weisz) who is living a happy life as a photographer in New York. She is eventually called back to her Orthodox Jewish family in London after her rabbi father passes away. When she arrives, she finds her father's replacement Dovid (Alessandro Nivola) has married her childhood friend Esti (Rachel McAdams). A fire is rekindled when the two link back up. Based on Naomi Alderman's novel, the film is directed by Sebastián Lelio and produced by Rachel Weisz.
Directed by John Curran, Chappaquiddick is a historical drama that retells and re-examines the 1969 incident in which Senator Ted Kennedy (Jason Clarke) accidentally drove off a bridge after taking campaign aid Mary Jo Kopechne (Kate Mara) for a moonlit drive. The accident resulted in the death of Mary Jo and a swirl of scandal ensued.
Take a look at some highlights from the parties below! ~Alexa Caruso
*All photos courtesy of Sonia Recchia, Getty Images
Tags:
alessandro nivola, Chappaquiddick, disobedience, ed helms, jason clarke, John Curran, Kate Mara, rachel mcadams, Rachel Weisz