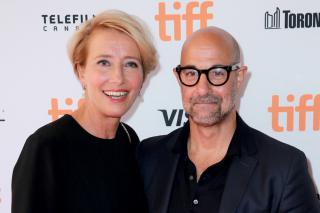 The BBC Film production The Children Act, starring Emma Thompson as High Court judge Fiona Maye, who has to make decisions on various court cases involving children, has been picked up for U.S. distribution by A24 and DirecTV.
The movie also stars breakout actor Fionn Whitehead (Dunkirk) as a teenager with leukemia who refuses to get a blood transfusion that will save his life.
Stanley Tucci plays Maye's long-suffering husband in the movie, which is directed by Richard Eyre and based on the novel of the same name by Booker Prize-winning author Ian McEwan.
A release date has not yet been announced. ~Alexandra Heilbron
Photo by Rich Fury/Getty Images.
Tags:
Emma Thompson, Fionn Whitehead, Stanley tucci, The Children Act, TIFF 2017, toronto international film festival