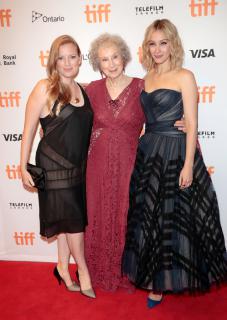 The stars of the show Alias Grace graced the TIFF red carpet for the primetime world premiere of the series.
Based on the Giller Prize-winning 1996 book by famous Canadian author Margaret Atwood, the show follows the true story of Irish immigrant and housemaid Grace Marks (played by Toronto's own Sarah Gadon) who is accused of killing her employer Thomas Kinnear (Paul Gross).
She denies the charges, saying she has no memory of the murder, but is imprisoned due to the evidence against her.
A decade later, Doctor Simon Jordan (Edward Holcroft) attempts to help Grace recall her past in the hopes of remembering what really happened.
The red carpet event for the series saw stars Sarah Gadon, Edward Holcroft, Rebecca Liddiard and Kerr Logan join the source material's author, Margaret Atwood, for a series of photos.
The show's creator, Sarah Polley, also hit up the event with her cast. 
Take a look at some highlights from the event below!
*Photos courtesy of Brian de Rivera Simon, Getty Images
Tags:
Alias Grace, Edward Holcroft, Kerr Logan, Margaret Atwood, Rebecca Liddiard, sarah gadon, sarah polley, TIFF 2017