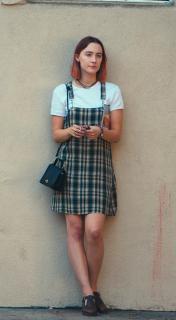 Elevation Pictures announced this morning that they have secured Canadian distribution rights to Greta Gerwig's solo directorial debut, Lady Bird, starring Saoirse Ronan (pictured at left), Tracy Letts and Lucas Hedges.
A24 has the U.S. distribution rights for the coming-of-age comedy.
"We are excited to work with A24 on this heart-warming film which festival audiences and critics have warmly embraced," said Laurie May Co-President.
Adrian Love SVP Distribution added, "We targeted this title as a key acquisition coming into the Toronto Film Festival, and can't wait to share this special film with audiences."
Elevation had 10 films at TIFF, including the eye-opening and very memorable film The Breadwinner executive-produced by Angelina Jolie, and Breathe starring Andrew Garfield and Claire Foy -- check back for our interviews with the stars of these films! ~Alexandra Heilbron
Tags:
Elevation Pictures, greta gerwig, Lady Bird, Saoirse Ronan