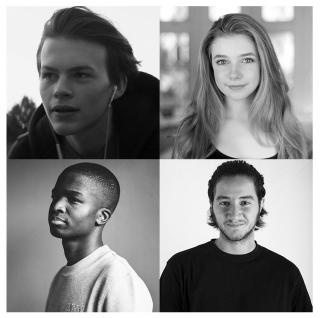 The TIFF 2018 International Rising Stars were announced today and join the four previously announced Canadian Rising Stars — Devery Jacobs, Lamar Johnson, Michaela Kurimsky, and Jess Salgueiro.
The International Rising Stars — Stéphane Bak (bottom left), Ahmed Malek (bottom right), Josh Wiggins (top left) and Eleanor Worthington-Cox (top right) — are already notable in their home countries of France, Egypt, the US, and England.
"This year, Rising Stars returns with an extremely gifted group of up-and-coming actors," said Cameron Bailey, Artistic Director of TIFF. "From a young stand-up comedian (Stéphane Bak ) to an Olivier Award-winning musical performer (Eleanor Worthington-Cox ), this diverse group is multi-talented and eager to make their mark. We're so glad TIFF can provide this platform to help elevate them to the world stage."
The TIFF Rising stars will participate in a curated Festival experience designed to support their professional development, consisting of valuable networking opportunities and industry events, as well as red-carpet and media engagements.
All four international Rising Stars are featured in movies showing at this year's TIFF. Eleanor Worthington-Cox plays the title role in William McGregor's Gwen, while France's Stéphane Bak stars in Joël Karekezi's survival odyssey The Mercy of the Jungle. Last year, Ahmed Malek, who played a leading role in last year's TIFF Closing Night Special Presentation Sheikh Jackson will be featured this year in Ahmad Abdalla's Contemporary World Cinema title EXT. Night. Josh Wiggins, who co-starred alongside Sophie Nélisse and Bill Paxton in the Canadian film Mean Dreams at TIFF in 2016, co-stars alongside Kyle MacLachlan in Keith Behrman's Canadian drama Giant Little Ones.
Previous International Rising Stars alumni include Jessie Buckley and Mamoudou Athie, who return to the  Festival this year with roles in the films Wild Rose and The Front Runner, respectively.
The 43rd Toronto International Film Festival runs from September 6 to 16, 2018. ~Alexandra Heilbron
Tags:
Ahmed Malek, International Rising Stars, Josh Wiggins and Eleanor Worthington-Cox, Stéphane Bak, TIFF 2018, TIFF Rising Stars