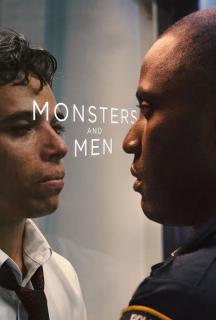 It was announced today that screenwriter/director Reinaldo Marcus Green's feature film debut, Monsters and Men, has been acquired by Altitude Film Distribution in partnership with platinum-selling artist Drake for U.K. distribution. The film won the Special Jury Award for Outstanding First Feature when it debuted at the Sundance Film Festival. It screened earlier this week at the 2018 Toronto International Film Festival.
Shot in New York City, Monsters and Men stars John David Washington as an African-American police officer struggling to stand up against his fellow officers after an eyewitness (Anthony Ramos of Broadway's Hamilton) captures the shooting of a black man by a police officer on video.
Will Clarke, chairman and joint CEO of Altitude Film Entertainment said in a press release, "We at Altitude are very excited about the release of Monsters and Men. The film is powerful, emotionally provocative and highly relevant and the combined resources of Drake and ourselves is a unique and potent combination to reach the largest audience in the UK and Ireland. We look forward to Monsters and Men being the first of many projects on which we work together."
Adel "Future" Nur, Drake's long-time manager and business partner, stated: "Drake and I are incredibly proud of Monsters and Men and what we know it will accomplish. We are also honoured to work with remarkable first-time filmmaker Reinaldo Marcus Green on this important project that helps to continue the conversation around an important issue facing communities everywhere."
Monsters and Men will be released via Altitude in the U.K. and Ireland on January 11, 2019, while film distributor Neon will release the film in the U.S. on September 28, 2018.
Monsters and Men next screens at TIFF on Friday, September 14 at 2:30 p.m. at the Winter Garden Theatre. ~Alexandra Heilbron
Tags:
Drake, Monsters and Men, TIFF 2018