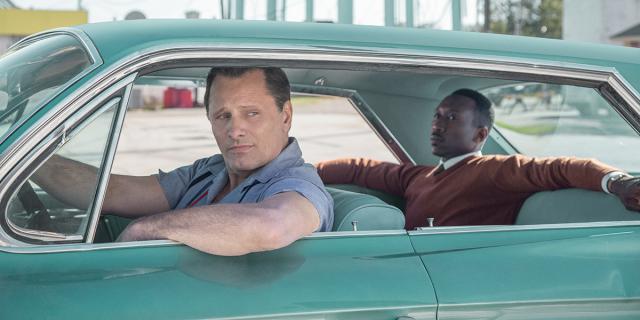 Peter Farrelly's comedy-drama Green Book was declared the winner of the People's Choice Award at this year's Toronto International Film Festival.
Set in 1962, the movie stars Mahershala Ali as a classical pianist and Viggo Mortensen as his chauffeur as the two embark on a tour of the American Deep South together, confronting plenty of racism and danger along the way. It's based on the true story of pianist Don Shirley and New York bouncer Tony Lip who traveled with Shirley as his personal driver and bodyguard.
The 43rd Toronto International Film Festival awards ceremony, marking the end of the festival, was hosted by TIFF co-directors Piers Handling and Cameron Bailey, who read a statement from Green Book writer/director Farrelly upon announcing the film as the prestigious award winner on Sunday night.
"I'm still reeling over the response to the film, so this is just incredible," Farrelly said in the statement. "Thanks so much to the festival: I was truly honored just to be accepted into it, but to actually win is beyond my wildest dreams. Now I see why everyone says the audiences in Toronto are the best in the world."
Winning the People's Choice Award is often considered indicative of future accolades, including Academy Award nominations.
This year, TIFF gave special focus to films that celebrate the voices of the traditionally unrepresented, particularly women. The organization held a rally as part of their Share Her Journey initiative meant to acknowledge and call for increased opportunities for women who work in the entertainment industry. Of the 342 films that were screened at the festival this year, about 35 percent of them were directed or co-directed by women.
Check out the full list of winners at this year's TIFF award ceremony below. ~Caitlyn Clancey
Full list of TIFF award Winners:

People's Choice Award: Green Book, directed by Peter Farrelly
People's Choice Midnight Madness Award: The Man Who Feels No Pain, directed by Vasan Bala
People's Choice Documentary Award: Free Solo, directed by E. Chai Vasarhelyi and Jimmy Chin
Toronto Platform Prize: Cities of Last Things, directed by Wi Ding Ho
International Federation of Film Critics Prize (FIPRESCI): Float Like a Butterfly, directed by Carmel Winters
International Federation of Film Critics Prize (FIPRESCI): Skin, directed by Guy Nattiv
Netpac Award: The Third Wife, directed by Ash Mayfair
Eurimage's Audentia Award: Fig Tree, by Aäläm-Wärque Davidian
Best Canadian Short Film Award: Brotherhood, directed by Meryam Joobeur
Best Short Film Award: The Field, directed by Sandhya Suri
Best Canadian First Feature Film Award: Roads in February, directed by Katherine Jerkovic
Best Canadian Feature Film Award: The Fireflies Are Gone, directed by Sébastien Pilote
Tags:
2018 TIFF awards, Green Book, Mahershala Ali, Peter Farrelly, TIFF 2018, Viggo Mortensen