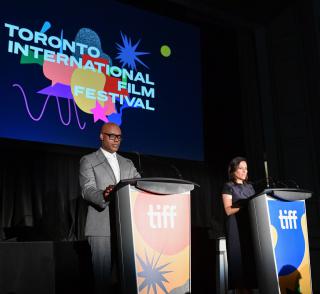 Joaquin Phoenix has been named to receive one of two TIFF Tribute Actor Awards during the 2019 Toronto International Film Festival.
He'll receive the honor at the TIFF Tribute Gala Awards on Monday, Sept. 9, 2019 at the Fairmont Royal York on Front Street. The Gala is an annual fundraiser, with the proceeds going to support TIFF's year-round programs and their core mission "to transform the way people see the world through film, and to celebrate the  film industry's outstanding contributors," according to a press release.
Phoenix has had a career that spans 35 years, from the time he was a child actor. He's been nominated three times for Academy Awards for his work in the films Gladiator, The Master and Walk the Line, winning a Golden Globe for the latter film. This October, he stars in the title role in the feature film Joker, which will have its North American premiere at TIFF before releasing to theaters.
"Displaying both raw instinct and consummate technical skill, Joaquin Phoenix is the complete actor, and one  of the finest in contemporary cinema," said Cameron Bailey (pictured above left), who along with Joana Vicente (above right), is a Co-Head of TIFF. "Over three decades, he has brought a piercing truth to each  groundbreaking role. TIFF is thrilled to be celebrating an artist of his calibre with this inaugural award. We can't  wait for Festival audiences to experience his electric turn in ​Joker​."
Receiving the other TIFF Tribute Actor Award will be Meryl Streep, while Taika Waititi will receive the TIFF Ebert Director Award. ~Alexandra Heilbron
Tags:
award, Cameron Bailey, Gala, Joana Vicente, Joaquin Phoenix, Meryl Streep, taika waititi, TIFF 2019