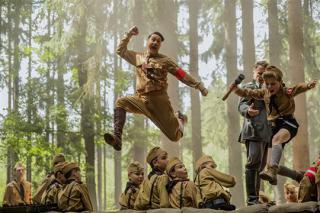 Audiences who attended the Toronto International Film Festival were asked to vote for their favorite film, with the winner being announced just moments ago via Twitter.
The winner of the 2019 Grolsch People's Choice Award is Jojo Rabbit, written, directed by and starring Taika Waititi. It will screen for free this evening at TIFF Bell Lightbox on King Street.
Winners of the People's Choice Award have often gone on to win Academy Awards, including last year's winner, Green Book, which went on to win this year's Oscar for Best Picture.
Check out the full list of winners at this year's TIFF below. ~Alexandra Heilbron
2019 TIFF Award Winners:
People's Choice Award: Jojo Rabbit
People's Choice Midnight Madness Award: The Platform
People's Choice Documentary Award: The Cave
Toronto Platform Prize: Martin Eden
FIPRESCI Prize for the Discovery Programme: Murmur
FIPRESCI Prize for Special Presentations: How to Build a Girl
Netpac Award: 1982
Best Canadian Short Film Award: Delphine
Best Short Film Award: All Cats Are Grey in the Dark
Best Canadian First Feature Film Award: The Twentieth Century
Best Canadian Feature Film Award: Antigone
Tags:
All Cats Are Grey in the Dark, Antigone, Grolsch People's Choice Award, How to Build a Girl, Jojo Rabbit, Martin Eden, Murmur, The Cave, The Platform, The Twentieth Century, TIFF 2019