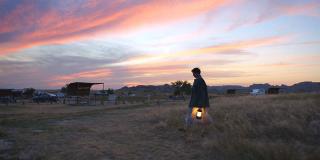 It's Day 2 and TIFF is getting busier! Tonight is the gala presentation for Regina King's directorial debut, One Night in Miami…, which is based on Kemp Powers' 2013 play. This is a fictionalized account of a 1964 meeting between Malcolm X, Muhammad Ali, Sam Cooke and Jim Brown. The film screens at 7:45 pm at Visa Skyline Drive-In at CityView.
Another gala film screening today is the highly anticipated film, Ammonite. Kate Winslet and Saoirse Ronan star in a love story between a solitary paleontologist and a wealthy, grieving wife in 19th-century Dorset. The movie premieres 9:15 pm and 9:30 pm, TIFF Bell Lightbox.
Also premiering tonight is Nomadland, starring Frances McDormand as she explores the vast landscape of the American West in Chloé Zhao's wise and intimate portrayal of life as a modern-day nomad. The film screens at 9:15 pm at RBC Lakeside Drive-In at Ontario Place.
The Disciple, Chaitanya Tamhane's masterfully composed second feature, examines a lifetime journey devoted to the art of Indian classical music. The film screens 4:45 pm and 5 pm at TIFF Bell Lightbox.
Three-time Oscar nominee Viggo Mortensen directs and stars in Falling, a story of a gay man who has to care for his elderly homophobic father (Lance Henriksen). The movie screens at 4:30 pm at TIFF Bell Lightbox.
Films that also premiere today online at 6 pm at Bell Digital Cinema are The Way I See It, The Boy From Medellin, Spring Blossom, No Ordinary Man, and Get the Hell Out.
Also, In Conversation With..., one of TIFF's most exciting programmes, will be kicking off today. These talks feature candid, intimate and entertaining sit-downs with some of the industry's talented stars.
Today, we will be watching In Conversation With… Halle Berry at 6 pm. Halle Berry makes her directorial debut this year with her film Bruised, which she also stars in, which premieres at the festival. This conversation dives into all aspects of Berry's experience directing Bruised, as well as her groundbreaking film and television career that spans 30 years. This event is part of TIFF's Share Her Journey initiative, which champions women in front of and behind the camera.
~Marriska Fernandes
Tags:
Ammonite, Falling, Nomadland, One Night in Miami, The Disciple, TIFF 2020