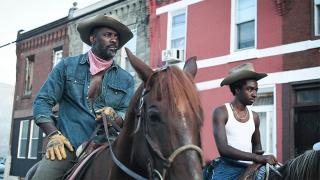 The weekend continues to get busy with buzzworthy titles.
Tonight's gala premiere is Concrete Cowboy, starring Idris Elba, Caleb McLaughlin and Jharrel Jerome, about a troubled teen who gets involved in a life of crime. He's sent to live with his estranged father, who spends his days at the Fletcher Street stables. The film premieres at 9 pm at TIFF Bell Lightbox.
Akilla's Escape, a Canadian film showcasing as part of Planet Africa 25, follows a drug trader who tries to set things right when unexpected circumstances force him to confront his traumatic origins. The film premieres at 9 pm at West Island Open Air Cinema at Ontario Place.
Special Presentation film Summer of 85 is a 1980s period piece from François Ozon that follows the fateful friendship and love affair between two teenage boys on the Normandy coast. The movie screens at 9 pm at RBC Lakeside Drive-In at Ontario Place.
Night of the Kings, about a teenager incarcerated in Côte d'Ivoire's largest prison, will be playing at 9 pm at TIFF Bell Lightbox.
Canadian documentary The New Corporation: The Unfortunately Necessary Sequel, the sequel to The Corporation, exposes how companies are desperately rebranding as socially responsible — and how that threatens democratic freedoms. It screens at 9 pm at West Island Open Air Cinema at Ontario Place.
Beans, part of TIFF's Next Wave program, is based on true events and chronicles the 78-day standoff between two Mohawk communities and government forces in 1990 in Quebec. This screens at 12 pm at TIFF Bell Lightbox.
The Disciple, Chaitanya Tamhane's masterfully composed second feature, examines a lifetime journey devoted to the art of Indian classical music. The film screens today at 4:30 pm at TIFF Bell Lightbox.
Three-time Oscar nominee Viggo Mortensen directs and stars in Falling, the story of a gay man who has to care for his elderly homophobic father (Lance Henriksen). The movie screens again today at 4:45 pm at TIFF Bell Lightbox.
Director Thomas Vinterberg and actor Mads Mikkelsen reunite for Another Round, a sobering comedy about aging, alcoholism, and friendship between men. This one screens again at 12 pm at TIFF Bell Lightbox.
Films that also premiere today online at 6 pm at Bell Digital Cinema are Shadow in the Cloud, Inconvenient Indian, The Disciple, Beginning, I Care a Lot, One Night in Miami... and Another Round.
At 1 pm today we will be watching In Conversation With… Saoirse Ronan. The Oscar-nominated actress discusses her performances over the past decade and how it contributed to her international fame and success. She will also talk about her film Ammonite, which premiered September 11 at TIFF.
~Marriska Fernandes
Tags:
Akilla's Escape, Concrete Cowboy, Falling, Summer of '85, The Disciple, The New Corporation: The Unfortunately Necessary Sequel