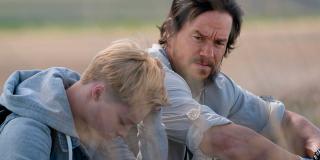 Tonight's big gala premiere is Good Joe Bell. The Oscar-winning writers of Brokeback Mountain tell the true story of a father's walk across the US to raise awareness about the harms of bullying. The film stars Mark Wahlberg, Reid Miller, Connie Britton. It screens at 9:15 pm at TIFF Bell Lightbox.
The Father, starring Anthony Hopkins and Olivia Colman, is a drama about a man's slide into dementia. The film premieres at 9 pm at RBC Lakeside Drive-In at Ontario Place.
Midnight Madness film Violation premieres tonight. In Madeleine Sims-Fewer and Dusty Mancinelli's deeply disturbing debut feature, a traumatic betrayal drives a woman towards a vengeful extremity. It screens at 9 pm and 9:30 pm at TIFF Bell Lightbox.
No Ordinary Man screens again today at 9 pm at TIFF Bell Lightbox. 76 Days, a raw and intimate documentary, captures the struggles of patients and frontline medical professionals battling the COVID-19 pandemic in Wuhan. It screens today at 5 pm and 5:15 pm at TIFF Bell Lightbox.
Ephraim Asili's debut The Inheritance weaves together the histories of the MOVE Organization, the Black Arts Movement, and Asili's time in a Black Marxist collective. This screens at 5: 30 pm at TIFF Bell Lightbox.
Ammonite screens at 12:30 pm at the TIFF Bell Lightbox. Films that also premiere today online at 6 pm at Bell Digital Cinema are Concrete Cowboy, Downstream to Kinshasa and Lift Like a Girl.
At 6 pm today, we will be watching In Conversation With… Ava DuVernay. The Oscar-nominated filmmaker discusses art, activism, and Black Lives Matter, and how the industry plays a role in championing the movement. We can expect this one to be a powerful discussion.
~Marriska Fernandes
Tags:
76 Days, ava duvernay, Good Joe Bell, No Ordinary Man, The Inheritance, Violation