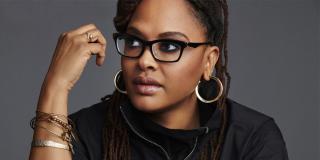 Academy nominated director Ava DuVernay is a filmmaker whose work speaks for itself. Whether it's Selma, 13th or the mini-series When They See Us, her work has inspired and empowered many.
As part of the TIFF In Conversations series at TIFF, Ava Duvernay was invited to talk about her art, activism, Black Lives Matter, and how the industry plays a role in championing the movement.
TIFF artistic director and TIFF co-head Cameron Bailey asked Ava about the best advice she received from a director. Ava responded that it was director Gina Prince-Bythewood who gave her sound advice. "She told me early on to not let bad behavior slide, especially how it related to male crew members and their interactions with me as a woman director. Your instinct might be to let that go, but she talked about it."
She stressed the importance of calling out such "behavior" in the open. "Basically, let it be known, and the poor soul is gonna be the one who's the example," she continued. "It didn't have to be sassy or anything dramatic, but to let it be known that certain things wouldn't be tolerated. I remember her telling me that.... I thought I'd never have that problem, but it used to come up a lot for me. It was only on the last couple of films that I started to realize, 'Oh, this doesn't come up for me much anymore!'"
Ava went on to discuss how we're long overdue for more representation and diversity in Hollywood, and that the industry has to be more welcoming to women and people of color. "I've been in a lot of spaces where I'm the only woman, the only Black person, the only person of color. Now I walk in, like, 'Why am I the only one? What's wrong with you? Why don't you have more people here?' And I think the world has changed in that way where you can walk in and say there's no way that the people who are putting this festival together, this company, or this department aren't aware that everyone is looking the same way and being the same way."
Ava's films have been contributing to the Black Lives Matter conversation, and she's welcoming that. "I'm resentful of the fact that we have to even say the words, that my life matters. Is this a conversation? Yes, for a lot of people it is. Hopefully we can keep talking about it and looking at these things and get to a time when it's not needed."
Speaking to the importance of this year she said, "Truly, you can feel the vibration of the day, one day after the next, that we are in the midst of history and 2020 will be long remembered." ~Marriska Fernandes
Tags:
13th, ava duvernay, Selma, tiff, TIFF 2020, When They See Us