The 45th annual Toronto International Film Festival was a much different affair this year, with only 50 full-length films being presented (instead of 245). Nevertheless, the festival stood out with stellar gems that are strong contenders for the Oscars. TIFF is often the first stop for films that could be on their way to the Academy Awards. Here are our picks for standout festival films that may be part of award season. ~Marriska Fernandes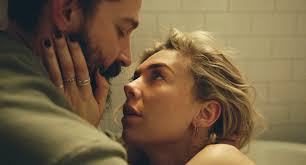 Pieces of a Woman
Synopsis: Martha (Vanessa Kirby) and Shawn (Shia LaBeouf) are eagerly expecting their first baby. They have planned a home birth and are prepared to bring their first born child into the world. However, complications arise when the midwife can't find a pulse for the baby, sending the couple spiraling after they lose their child.
Our Take: It's hard to believe this is the English-language debut of Hungarian filmmaker Kornél Mundruczó. The 23-minute one-shot opening scene in which Martha gives birth captures the joy and agony of childbirth, and is very delicately handled. It's a scene that will be talked about for a long time. This film ultimately belongs to Vanessa Kirby. It's a parent's worst nightmare that she brings to life, as Martha tries to process the physical and psychological impact of this loss. She retreats into a shell, with an icy, stony silence – not visibly the look of a woman grieving. It's in these incredibly complex scenes that Kirby flourishes. She gives the performance of her career, displaying the compelling pieces of a strong woman. Kirby has already won Best Actress at the Venice Film Festival, taking home the Golden Lion.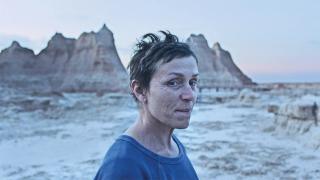 Nomadland
Synopsis: Written and directed by Chloé Zhao, Nomadland follows Fern (Frances McDormand), a widow whose mining town in Nevada has collapsed financially. So she takes her van and travels to other towns, living on seasonal jobs and meeting other nomads during her journey.

Our Take: "I'm not homeless, I'm just houseless." That's the crux of the film. McDormand commands the screen in a self-effacing manner. She and Zhao create a fictional character about the lifestyle of nomads, yet not demanding sympathy in any way. McDormand's quiet, soulful performance makes us believe we're not watching an actor, but a documentary-style version of Fern, a real nomad who lives life on her own terms. The moving score by Ludovico Einaudi elevates the film. Nomadland won this year's Golden Lion, the top prize for Best Film, at the Venice Film Festival.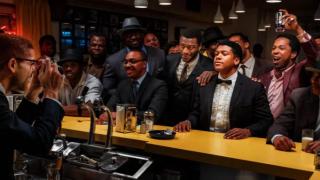 One Night in Miami...
Synopsis: Malcolm X, Cassius Clay, Jim Brown and Sam Cooke come together in a hotel room in 1964 and have a timely conversation.

Our Take: Regina King's directorial debut, One Night In Miami... imagines a powerful, compelling conversation between four Black icons in 1964 about race, religion, and politics. The actors portraying these four – Leslie Odom Jr. as Sam Cooke, Kingsley Ben-Adir as Malcolm X, Aldis Hodge as Jim Brown, and Eli Goree as Cassius Clay (Muhammad Ali) – disappear into their respective characters, making us believe we're actually watching historical figures. It's a dialogue-heavy film – a dialogue that couldn't be more timely.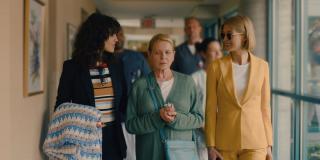 I Care a Lot
Synopsis: Legal Conservator Marla Grayson (Rosamund Pike) and her partner-in-crime Fran (Eiza Gonzalez) use their power and influence to steal from elderly wards assigned to their care by the court. When they find a cherry of a client, Jennifer (Dianne Wiest), they don't realize that everything will fall apart as a crime lord (Peter Dinklage) comes after them.
Our Take: This is a deliciously dark drama, and one that Rosamund Pike revels in playing. Similar to her icy Gone Girl character, Rosamund tears into her role as a devious legal conservator whom viewers will love to hate. Marla is a power-player who works the room with confidence and Rosamund delivers spot-on quips with a cold smirk and an icy menace. Director J Blakeson has constructed notable characters and rounded up a stellar cast – including Chris Messina, Peter Dinklage and Dianne Wiest – who make you care a lot for the film and what happens to the characters.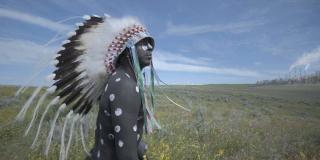 Inconvenient Indian
Synopsis: Toronto-based First Nations filmmaker Michelle Latimer offers up a documentary about the cultural colonization of Indigenous peoples in North America, based on the book by Thomas King.
Our Take: Michelle takes a very different, yet eye-opening approach, using archival interviews, dance, photography and Thomas King himself. We see King on screen taking a cab and then sitting in a movie theater and eating popcorn as he watches early movies that include Native peoples. At the same time he narrates the documentary. The film shows how Indigenous people have been portrayed in cinema – Michelle's documentary is a strong call to action.
These movies were screened during the 45th annual Toronto International Film Festival.
Tags:
I Care a Lot, Inconvenient Indian, Nomadland, One Night in Miami, Pieces of a Woman, tiff, TIFF 2020