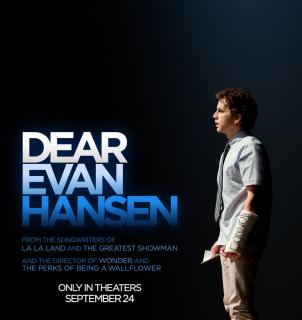 The 46th annual Toronto International Film Festival just announced their 2021 lineup, including the opening and closing films.
This year, big name blockbusters are coming to the festival, including opener Dear Evan Hansen, a movie adaptation of the Broadway phenomenon. The film stars original cast member Ben Platt as Evan Hansen, along with Amy Adams, Julianne Moore, Kaitlyn Dever and Amanda Stenberg.
Anyone familiar with the original musical knows that the story totes a heart-wrenching plot packed to the brim with love, loss, healing, and forgiveness. It also reminds viewers of the value of human connection — something we've sorely missed since the onset of the pandemic.
In the official July 20 media release, Joana Vicente, TIFF's Executive Director stated that: "As TIFF resumed this year in the wake of a pandemic that marked and changed all of our lives, we felt it was important to open this year's Festival with a film that connects to our shared humanity and that reminds us how deeply we need one another, need to be seen by one another, especially in times of loneliness and despair."
In that regard, Dear Evan Hansen provides a beacon of hope.
According to Stephen Chbosky, the film's director, "Dear Evan Hansen is a film about allowing ourselves to be found, and giving ourselves permission to be our true, authentic selves. After a year and a half of isolation, so many of us are finding our way back to each other.
"So, now more than ever, I am honoured that the Toronto International Film Festival has chosen Dear Evan Hansen to open this year's Festival. We could not have asked for a more ideal festival, or audience, or moment to premiere our film," Chbosky continued.
After Dear Evan Hansen premieres on September 9, a slew of the year's biggest films will screen at TIFF. Some of these include the world premieres of Kenneth Branagh's Belfast and Walt Becker's Clifford the Big Red Dog, as well as the North American premiere of Edgar Wright's Last Night in Soho.
The first official list of programming includes 10 Galas and 22 Special Presentations.
Rounding out the Toronto International Film Festival is One Second, a film by Chinese director Zhang Yimou, who also helmed Raise the Red Lantern and Hero. One Second follows a travelling film projectionist and a prison escapee who forge a connection through cinema. The official press release called Yimou's film a "love letter to movies and a reminder of how they can unite people, regardless of our differences."
TIFF runs September 9 to 18 across Toronto with showings at Roy Thomson Hall, Princess of Wales Theatre, the Visa Screening Room, the RBC Lakeside Drive-In at Ontario Place, and online via the TIFF Bell Lightbox platform. Stay tuned for more information and tickets. ~Cassandra Coleman
Tags:
Belfast, Clifford the Big Red Dog, Dear Evan Hansen, Last Night in Soho, One Second, TIFF 2021