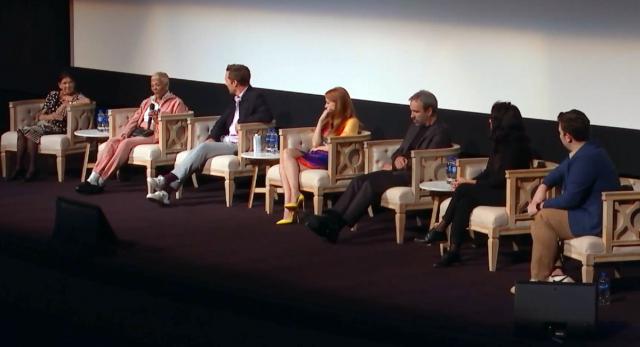 The TIFF Tribute Awards press conference took place today and in attendance were Danis Goulet, recipient of the TIFF Emerging Talent Award; Dionne Warwick, recipient of the Special Tribute Award; Jessica Chastain and Benedict Cumberbatch, who received Tribute Actor Awards; Denis Villeneuve and Alanis Obomsawin, who received Jeff Skoll Awards in Impact Media and joining via Zoom was TIFF Variety Artisan Award recipient Ari Wegner.
Dionne revealed that she'd watched her film, Dionne Warwick: Don't Make Me Over (screening today at 2 p.m. at the Princess of Wales Theatre) for the first time by herself at the Apollo Theater in New York. She said, "It was really interesting, there were a lot of things I forgot. I enjoyed it, getting to know me. I had a good time with Dionne, she ain't too bad. I'm hopeful that audiences will take the journey and enjoy it with me."
Each of the recipients was asked what movie they enjoyed while at home during the pandemic and Dionne replied that she'd binged Sherlock Holmes starring Benedict Cumberbatch, watching it from 6 p.m. one night to 6 a.m. in the morning on Netflix. She also enjoyed the original series Lucifer.
Jessica Chastain talked about her first time being at TIFF 10 years ago. "It was the beginning of my career and I've made six movies in Toronto, two in Montreal so I kind of feel like I'm Canadian, if you'll have me." Her movie of choice that she'd enjoyed during the pandemic was Moonstruck starring Cher.
Benedict Cumberbatch went next, and joked that although he's not Canadian, he said, "What I love about this festival is how audience driven it is. It's great to be here to connect with audiences." He also spoke about preparing for his film The Power of the Dog, saying he went to "dude camp" in Montana to learn ranch life and ranch rituals, as well as a boot camp in New Zealand. He had a long list of movies that have influenced him over the years, but when asked which one caught his eye over the past year, he replied Jojo Rabbit, saying that although it was set in a dark time, it brought humor and hope to the audience.
Canadian director Denis Villeneuve said, "I'm convinced the future of theater is on the big screen. I think the theater owners and the filmmakers have a responsibility to bring the best of cinema to the screen. The future of cinema is Dolby, it has to bring scope and the challenge for me is not to bring blockbusters, it's about art." When asked which movie he revisited over the past year, he couldn't pick one but admitted, "Streaming saved my life during the pandemic."
Director Alanis Obomsawin enthralled the crowd with stories of her childhood, when she said she'd thought going to the movies meant going to a town, because she'd never been to one and couldn't conceive of what that meant.
Cinematographer Ari Wegner, who worked on The Power of the Dog and is currently working on a film in Dublin, joined the conference via Zoom.
The awards will be given out on Saturday, September 18, 2021. The ceremony will air live at 7 pm ET, 8 pm AT on CTV, CTV.ca, and the CTV app in Canada and will be streamed internationally by Variety.
Tags:
Alanis Obomsawin, Ari Wegner, Benedict Cumberbatch, Danis Goulet, denis villeneuve, Dionne Warwick, Jessica Chastain, Tribute awards