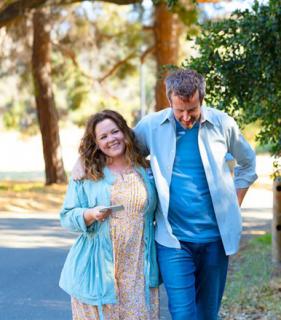 The Starling debuts at the Princess of Wales at 6 p.m. tonight. It stars Melissa McCarthy and Chris O'Dowd as a couple working their way through grief after losing their infant daughter.
Jessica Chastain stars as real life former televangelist Tammy Faye Bakker in The Eyes of Tammy Faye, a drama that details the rise and fall of the Bakker network empire. Premiering tonight at 9:30 p.m. at the Princess of Wales Theatre.
Naomi Watts stars in the thriller Lakewood from Australian director Phillip Noyce. She plays a mother who races to save her son when a shooting occurs. See it at Roy Thomson Hall at 12:30 p.m. or later tonight at the Visa Skyline Drive-In at Ontario Place at 8:30 p.m. If you haven't got time today, it also screens Tuesday September 14 at 9:00 p.m. at Ontario Place West Island Open Air Cinema.
Judi Dench, Ciarán Hinds and Jamie Dornan star in Belfast, director Kenneth Branagh's coming-of-age story set amid the turbulent times of the late 1960s in Northern Ireland. It premieres at 5:30 p.m. at Roy Thomson Hall, then repeats on Thursday September 16 at 12:00 p.m. at TIFF Bell Lightbox.
The Norwegian/Canadian film The Middle Man is an absurdist comedy/drama about a man hired to deliver bad news in a town plagued by accidents. It stars Norwegian film actor Pål Sverre Hagen alongside a bevy of Canada's top talent, including Paul Gross, Don McKellar, Rossif Sutherland, Kenneth Welsh and Sheila McCarthy. See it at 4 p.m. at TIFF Bell Lightbox.
The Mad Women's Ball, the latest from writer-director-actor Mélanie Laurent, is a chilling tale of spectral visions and institutional abuse set in 19th-century France. The premiere is being held tonight at 9 p.m. at Roy Thomson Hall.
Other films screening today include Are You Lonesome Tonight, The Humans, The Rescue, and Benediction.
For a full schedule of what's playing today at TIFF, click here.
Click here to buy tickets for these movies and for more information. ~Alexandra Heilbron
Tags:
Are You Lonesome Tonight, Belfast, Benediction, Dune, Lakewood, The Eyes of Tammy Faye, The Humans, The Middle Man, The Rescue, The Starling