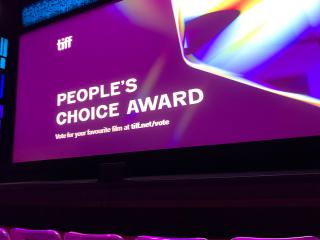 Kenneth Branagh's film Belfast has won the 2021 People's Choice Award at the Toronto International Film Festival.
In a recorded video speech, Branagh talked about what a wonderful time he and star Jamie Dornan had at TIFF this year, adding, "I am thrilled, I am humbled and deeply grateful."
The coming-of-age drama is set during late-1960s Northern Ireland and follows young Buddy (Jude Hill), who dreams of a future that will whisk him far from the Troubles, but, in the meantime, he finds consolation in his charismatic Pa (Jamie Dornan) and Ma (Caitríona Balfe), and his spry, tale-spinning grandparents (Ciarán Hinds and Judi Dench).
The People's Choice Award winner is based on votes, and during tonight's ceremony, it was revealed that the top three contenders were The Power of the Dog, Belfast, and Scarborough.
In addition to the People's Choice winner, several other award recipients were announced, including:
Platform Prize: Yuni (Director Kamila Andini)
FIPRESCI Jury Award: Anatolian Leopard (Director Emre Kayis)
NETPAC Award: Costa Brava, Lebanon (Director Mounia Akl)
TIFF Tribute Actor Award: Jessica Chastain and Benedict Cumberbatch
TIFF Ebert Director Award: Denis Villeneuve
TIFF Special Tribute Award: Dionne Warwick
Jeff Skoll Award in Impact Media supported by Participant Media: Alanis Obomsawin
TIFF Emerging Talent Award presented by L'Oréal Paris and supported by MGM: Danis Goulet
TIFF Variety Artisan Award: Ari Wegner
Over the past nine years, every TIFF People's Choice Award winner has gone on to be nominated for Best Picture at the Oscars, including last year's winner, Nomadland, which won the Best Picture Oscar earlier this year.
Click here to vote on your favorite People's Choice Award winner from the past 10 years and for more TIFF coverage. ~Alexandra Heilbron
Tags:
Alanis Obomsawin, Anatolian Leopard, Ari Wegner, Belfast, Benedict Cumberbatch, Costa Brava Lebanon, Danis Goulet, denis villeneuve, Dionne Warwick, Jessica Chastain, People's Choice Award, Yuni