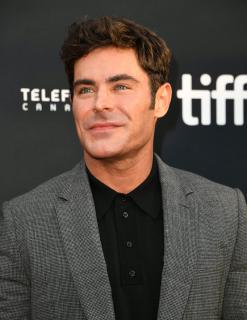 Zac Efron and his co-stars walked the red carpet at the premiere of The Greatest Beer Run Ever on Tuesday September 13 at the Roy Thomson Hall, but that's not all — each of them were accompanied by the real-life people whom they played in the movie.
The film takes place in 1967, as the war in Vietnam is escalating. One drunken night in a New York bar, surrounded by the friends and family members of American soldiers killed in action, Marine Corps veteran and merchant seaman John "Chickie" Donohue (Efron) is given a challenge — to sneak into Vietnam, locate all his friends in combat, and provide them with messages of love and encouragement — plus enough beer to go around.
Chickie hatches a half-baked plan and is on his way. What he doesn't anticipate is a crash course in the intricacies of war, truth, and honor, courtesy of Coates (Russell Crowe), a Look photographer with first-hand experience of this ongoing disaster that the American public is only gradually becoming aware of.
The Greatest Beer Run Ever premieres globally on Apple TV+ on September 30, 2022.
Photos: Arthur Mola, courtesy of Apple TV+. ~Alexandra Heilbron
Tags:
Jake Picking, Kyle Allen, Roy Thomson Hall, Ruby Ashbourne Serkis, The Greatest Beer Run Ever, Zac Efron