We were invited to come and have a look at a celebrity gifting lounge. The lounge was at the 4-star BISHA hotel in Toronto, where luxury products from the following companies -- many of them based in Canada and showcasing products made using vegan and/or sustainable materials -- were beautifully displayed. Click the links below to find out more about these wonderful products -- these will make perfect presents for your family and friends, or treat yourself and feel like a celebrity! ~Alexandra Heilbron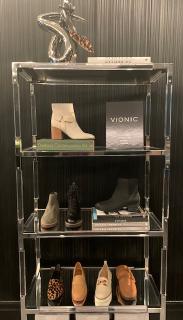 Vionic – These comfortable and stylish shoes provide arch support technology in the most up-to-date styles. Choose from slippers, sandals, sneakers, dress shoes, boots, and casual shoes.
Camellia Sinensis – This Canadian fine tea brand is based in Montreal and has been selling and providing high-end restaurants with some of the best teas available for over 20 years.
Solios – Canadian brand of minimalist solar watches made with sustainable materials.
Lambert – Lambert is a Montreal-based brand that specializes in vegan leather goods of quality, with respect for ethical and sustainable standards.
The Silk Labs – Ethically-sourced 100% silk products brand based in Toronto.
YogaJeans – This Canadian clothing brand is based in Montreal, and is notorious for its comfortable, yet stylish jeans. They also offer a selection of jackets, shorts, skirts, loungewear, tops, joggers and accessories.
MOSCOT – Eyewear brand with a history spanning five generations and a hundred years, and popular amongst various celebrities.
IDC Dermo – Canadian dermo cosmetics brand based on the latest medical advances for products that perfect the beauty of your skin.
Tags:
BISHA hotel, Camellia Sinensis, IDC Dermo, Lambert, MOSCOT, Solios, The Silk Labs, Vionic, YogaJeans