Galas
OPENING NIGHT FILM
David Dobkin, USA World Premiere
When successful big city lawyer Hank Palmer (Robert Downey Jr.) returns to his hometown for his mother's funeral, he finds out that his estranged father (Robert Duvall), esteemed Judge Joseph Palmer, is suspected of her murder. Hanks sets out to discover the truth, and along the way, reconnects with the family he walked away from years before.
CLOSING NIGHT FILM
Alan Rickman, United Kingdom World Premiere
Sabine De Barra (Kate Winslet) — a landscaper with a taste for the unconventional — is hired by the famous architect Andrè Le Notre (Matthias Schoenaerts) to design one of the fountains at The Palace of Versailles. As she battles with the weather, the perilous rivalries at the court of Louis XIV and her own private demons, she finds herself drawn inescapably closer to the enigmatic Le Notre.
Mike Binder, USA World Premiere
An attorney (Kevin Costner) who is a widowed grandfather is left to raise his biracial granddaughter after the deaths of his wife and daughter. When the little girl's paternal grandmother (Octavia Spencer) decides to fight for custody, he becomes involved in a bitter custody battle.
Antoine Fuqua, USA  World Premiere
Robert McCall (Denzel Washington), a former covert operations officer, volunteers his services as a private eye to people in need in an attempt to atone for a dark past. He meets and forms a relationship with Teri (Chloë Grace Moretz), a teenage prostitute who needs his help. However, as a result, he finds himself embroiled with the Russian mob.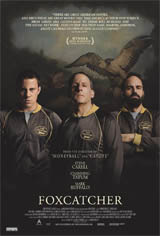 Bennett Miller, USA Canadian Premiere
Based on true events, Foxcatcher captures the tale of two Olympic gold-winning wrestling brothers, Mark (Channing Tatum) and Dave Schultz (Mark Ruffalo). While training for another shot at the Olympics and at the same time coaching "Team Foxcatcher," Dave was shot and killed at age 36 by multimillionaire paranoid schizophrenic John du Pont (Steve Carell), who was the team's sponsor.
Shim sung-Bo, South Korea World Premiere
A ragtag fishing boat crew decides to take on the high-risk mission of smuggling a group of illegal immigrants from China to Korea.
David Cronenberg, Canada/Germany North American Premiere
Released from a sanatorium, Agatha Weiss (Mia Wasikowska) returns to Los Angeles, where she gets a job as movie star Havana Segrand's (Julianne Moore) assistant. Her younger brother Benjie, 13, is a child star who recently was released from drug rehab and her father, Dr. Stafford Weiss (John Cusack) is a TV psychotherapist. When her father finds out Agatha has returned to Los Angeles, he fears she'll embarrass the family again and offers her $10,000 to leave. Meanwhile, Agatha strikes up a friendship with an aspiring actor/screenwriter, Jerome (Robert Pattinson), who works as a limo driver
François Ozon , France  World Premiere
Claire (Anaïs Demoustier) is left deeply depressed and grieving when her best friend Lea dies. However, she gets a new lease on life after she makes a surprising discovery about her Lea's widower (Romain Duris).
Ed Zwick, USA  World Premiere
American chess champion Bobby Fischer (Tobey Maguire) prepares for a legendary game against Russian Boris Spassky (Liev Schreiber).
Lone Scherfig, United Kingdom  World Premiere
Two first year students at Oxford University are inducted into the school's exclusive dining club. The members of the club rent out a country pub dining room an important dinner and their president, James, promises the landlord Chris that he will keep things under control but things get out of hand quickly when the boys get drunk and rowdy and a prostitute refuses to cooperate.
Olivier Nakache and Eric Toledano, France  World Premiere
Since moving to France 10 years ago from his native Senegal, undocumented immigrant Samba (Omar Sy) has held a number of menial jobs, doing whatever he can to survive. Samba fights to stay in his adopted country with the help of a rookie immigration worker (Charlotte Gainsbourg).
Shawn Levy, USA World Premiere
When Judd Foxman's (Jason Bateman) father dies, the family comes together for the first time in years. However, Judd's wife, who's having an affair, is noticeably absent. Judd, grieving for his father and his marriage, joins his dysfunctional non-practicing Jewish family as they fulfill his father's final wish and sit Shivah together, spending seven days and nights under the same roof, during which time secrets are revealed, longtime grudges come to the forefront and old passions are rekindled
Jean-Marc Vallée, USA World Premiere
After the breakup of her marriage and the death of her mother, Cheryl Strayed (Reese Witherspoon) is left devastated. She becomes a drug user but eventually realizes she needs to get away from the circumstances she's fallen into. Cheryl sets out alone, with absolutely no experience, on a thousand-mile hike along the Pacific Coast trail.
Special Presentations
Ramin Bahrani, USA Canadian Premiere
An unemployed construction worker (Andrew Garfield) teams up with an unscrupulous realtor (Michael Shannon) to save his family home.
Sarik Andreasyan, USA World Premiere
This action thriller revolves around two brothers (Adrien Brody, Hayden Christensen) with troubled pasts who become involved in a high-stakes bank robbery.
Chris Evans, USA World Premiere
When Brooke Dalton (Alice Eve) misses her 1:30 train to Boston at Grand Central Station in New York City, she meets Nick Vaughan (Chris Evans), who has also missed the last train.
Daniel Barnz, USA World Premiere
Claire Simmons (Jennifer Aniston), a woman in a chronic-pain support group, becomes fascinated by the suicide of Nina (Anna Kendrick), another member of the group, and begins to investigate but develops an unexpected relationship with the late woman's husband (Sam Worthington).
Zhang Yimou, China North American Premiere
A woman struggling from amnesia in the aftermath of the Cultural Revolution is determined to regain her memory and find her imprisoned husband.
Tao Fraser, New Zealand/United Kingdom World Premiere
The son of a tribal chieftain learns ancient Maori martial arts from a legendary warrior in order to enact vengeance on those who betrayed him and to bring peace to souls of his murdered family.
Philippe Falardeau, USA World Premiere
A strong American woman (Reese Witherspoon) is assigned to help four young Sudanese refugees who have won a lottery that allows them to relocate to the United States.
Peter Chelsom, German/Canada North American Premiere
A dissatisfied London psychiatrist (Simon Pegg) embarks on a continent-crossing trip to discover the secret of happiness.
Barry Levinson, USA North American Premiere
An elderly and addled actor (Al Pacino) on the brink of suicide gets a new lease on life when he begins a relationship with a much younger woman (Greta Gerwig).
Morten Tyldum, USA/United Kingdom Canadian Premiere
Alan Turing (Benedict Cumberbatch), a British cryptologist, is enlisted by his country during World War II to solve the code to the Nazi's Enigma code so the government can unlock and read Nazi Germany's secret messages.
Daniel Barber, USA World Premiere
With their men away during the last weeks of the American Civil War, three Southern women - two young sisters and their African-American slave (Brit Marling, Hailee Steinfeld, Muna Otaru) - have to defend their home and themselves from two rogue Union soldiers.
Richard LaGravenese, USA World Premiere
A struggling actress (Anna Kendrick) and her author boyfriend (Jeremy Jordan) have very different points of view as they look back on the last half-decade of their relationship.
Dan Gilroy, USA World Premiere
A drifter (Jake Gyllenhaal) who's into petty thievery becomes part of the underground and nocturnal world of freelance crime journalism, searing for gruesome crime-scene footage in Los Angeles.
Richard Glatzer, Wash Westmoreland, USA World Feature
Successful and renowned Columbia University professor Alice Howland (Julianne Moore) struggles to cope when she receives a devastating diagnosis from her doctor.