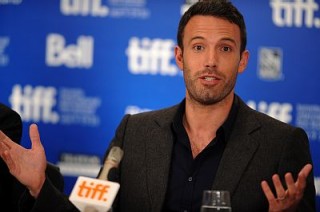 Ben Affleck's sporting a new look to go along with his new movie, "The Town," the second Boston-set crime drama he's directed following his critically acclaimed debut, "Gone Baby Gone." And his new look is apparently hard-won.
"I have a little bit of grey in my hair, and thank you for acknowledging it," he says in response to some teasing at a press conference for "The Town" at the Toronto International Film Festival. "You know what it is? I didn't have a single grey hair until I started directing movies. I started directing and here's your grey hair. And my brother. Those things give me grey hair."
His brother, Casey Affleck, is a successful actor making his own directorial debut at the festival with "I'm Still Here," a documentary about Joaquin Phoenix's baffling hip hop aspirations. Casey is also fighting allegations that he sexually harassed female coworkers on that film. Ben sidesteps the controversies surrounding "I'm Still Here" but praises his brother as "an extremely gifted director and a piercingly smart guy." He adds that "he and I are about to start writing a movie together. So yeah, look for more grey hair."
As if directing and writing weren't enough work for him, Affleck also took the lead role in "The Town," playing a Boston career criminal who embarks on a romance with the bank manager (Rebecca Hall) he took hostage during his last robbery.
Affleck says it was never his intention to step back from acting. "It really is a function of wanting to take a step toward directing, to do some more unusual stuff. And I felt ready to try being an actor and a director. [There] wasn't any meta-planning."
His "Town" costars sound in awe of Affleck's ability to wear so many different hats. "Mad Men" star John Hamm, who plays an FBI agent on Affleck's trail, claims he could never be a writer himself. "I find it terrifying," he says. "I have the attention span of a hopped-up squirrel. I can't focus on one thing longer than anything else."
When Hamm is caught scribbling during the press conference, he jokes that "I mostly take notes of whatever Ben says."
The admiration goes both ways. Affleck's proud of the fact that he got all his first choices of actors for "The Town." Hamm says that he read an early version of the script when another director was attached. "I didn't necessarily respond to the story then," he admits. "Once Ben signed on, I became much more interested."
"Gossip Girl" star Blake Lively claims her part as Affleck's drug-addled ex-girlfriend was one that "I was wrong for probably in more ways than I was right for, but I selfishly really wanted to play it because I loved it so much. So I pursued it and here I am."
Affleck, in turn, pursued Chris Cooper to play his dad in "The Town" on the set of another film they made together, "The Company Men," which comes out this October.
"I was buttering Chris up, just sycophancy as a way of getting him in," Affleck jokes. "'Can I get you coffee, Chris? Danish, Chris? Tire flat, Chris? Be right back!'"
The part of Affleck's best friend went to Jeremy Renner after Casey, Renner's costar in "The Assassination of Jesse James," gave him a big thumbs-up. "My brother said this guy's a genius actor and won't give you a false note. You should see his new movie."
Renner's next film turned out to be "The Hurt Locker," which earned him a Best Actor Oscar nomination and won Best Picture. "The new movie turned out to be good," Affleck laughs.
Rebecca Hall was cast on the basis of a referral as well. Affleck admired the British actress after seeing her in "Vicky Cristina Barcelona," but it wasn't until he talked to "Inception" director Christopher Nolan, who cast Hall in "The Prestige" and told Affleck he was a huge fan, that Affleck felt sure about asking her to join "The Town."
Affleck didn't need to go all the way to Britain to find an actress who could play his clean-cut girlfriend, of course. Hall's part seems like an eerily perfect fit for Affleck's wife Jennifer Garner.
Affleck says that casting Garner would've made sense if not for one important lesson he's learned from his career. "Something tells me that people don't want to see real-life couples together," he observes, pausing to soak up the laughter as reporters realize he's talking about himself and Jennifer Lopez in "Gigli."
But he doesn't rule out collaborating with Garner in the future. "My wife is a great actress. Maybe one day down the line I'd be lucky enough to direct her."
- By Kim Linekin
Tags:
ben afleck, casey afleck, jeremy renner, john hamm, the town