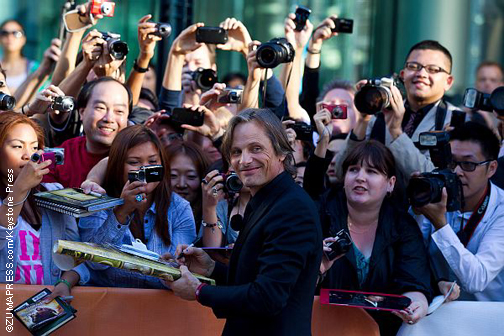 Hundreds of stars come to TIFF each year, but which ones  appreciate their fans the most? Joanne Chu-Fook has been going to the festival for five years and says the great thing about TIFF is that it's a festival for the people, unlike other large film festivals like Venice or Cannes, which don't open their screenings to the public. However, waiting on the red carpet each year, she's noticed some interesting things that people who don't go to meet celebrities wouldn't know. Apparently some stars sign a few autographs, but only for show. "They sign a handful of autographs for photo ops and then go into the tent for media," she notes.
The ones Joanne witnessed who took the most time with fans this year were George Clooney and Viggo Mortensen. "George got out of his limo a block away," she reveals, "and walked to the red carpet. He started at the beginning of the fence line and went all the way to the end, until everyone had gotten an autograph or photo with him." Another favorite was Ewan McGregor, who she says "has the most infectious smile. He never stops smiling!" Olivia Wilde was also generous with her time. Joanne notes, "Olivia Wilde signed for a long time, but couldn't sign everything, so what she did was she walked up and down where the fans were and made sure people got pictures of her."
Moviegoer Kathi Macdonald says Alexander Skarsgard, of True Blood fame, was another actor who was a class act. "He was professional, pleasant and signed for everyone he could. He was pulled away by his assistant to do press but then came back and started signing again where he left off."
Viggo Mortensen was one of the stars who only had a limited amount of time to sign autographs before the screening, but afterward he came back out and spent a lengthy amount of time with the fans. Others whom Joanne found to be friendly and generous with their time were Megan Fox, whose husband, Brian Austin Greene, made himself useful by taking photos of her with the fans' cameras, and Jason Statham. Were you at any red carpet screenings? Which were the most gracious stars? Do you have a favorite who really impressed you with the time he or she took with their fans? ~Alexandra Heilbron
Tags:
Alexander Skarsgard, ewan mcgregor, George Clooney, Jason Statham, Megan Fox, olivia wilde, Viggo Mortensen