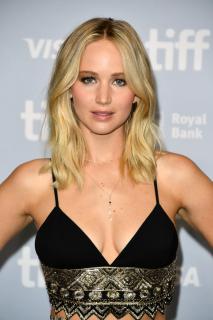 Toronto was buzzing when Jennifer Lawrence arrived in town for the TIFF premiere and press conference for her horror film mother!
The film tells the story of a couple (Jennifer Lawrence and Javier Bardem) who take in an odd group of strangers.
Once in the home, weird and disturbing occurrences begin to plague what was an otherwise peaceful home.
Directed by Black Swan's Darren Aronofsky, the film also stars Ed Harris and Michelle Pfeiffer.
The press conference for the film took place at 3:30 in the afternoon.
Along with director and rumored boyfriend Darren Aronofsky, Jennifer posed for some photos for excited press outlets before heading into the Gallery to answer press questions given by the conference's moderator, Eric Kohn.
The premiere for mother! followed the press conference a few hours later at 9:15 p.m. at the Princess of Wales theatre where a large crowd of excited fans greeted stars of the film with cheers and lots of photos.
Take a look at some photos from the press conference below and check out video from the red carpet premiere here! ~Alexa Caruso
*Photos courtesy of George Pimentel, Wire Image
Tags:
darren aronofsky, Jennifer Lawrence, mother!, press conference