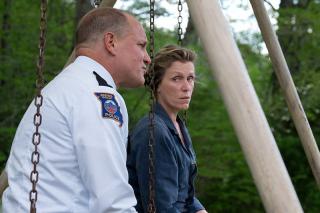 Three Billboards Outside Ebbing, Missouri, starring Frances McDormand and Woody Harrelson, took home this year's coveted Grolsch People's Choice Award at the Toronto International Film Festival today.
The winner of the award often goes on to attain Academy Award nominations. Past winners of both the People's Choice Award and the Best Picture Academy Award include The King's Speech and Slumdog Millionaire.
Three Billboards Outside Ebbing, Missouri will screen for free tonight at 6:00 p.m. at Roy Thomson Hall and opens in theaters on Nov. 10, 2017.
I, Tonya came in second in the People's Choice category, while Call Me By Your Name placed third.
Best documentary went to Faces Places, with the Tragically Hip concert tour film Long Time Running coming second and Morgan Spurlock's Super Size Me 2: Holy Chicken! achieving third place.
The People's Choice winner in the Midnight Madness program was the battle rap film Bodied. The movie was written by Alex Larsen of Toronto, who accepted the award, while James Franco's The Disaster Artist was first runner-up and Brawl In Cell Block 99 received second runner-up.
Taking this year's $25,000 Platform prize was Warwick Thornton's Sweet Country.
Canadian films taking home prizes included Les Affamés, which received the Canada Goose award for best Canadian feature film; while the City of Toronto award for best Canadian first feature went to Luk'Luk'I.
That's a wrap on this year's festival! Be sure to check out our exclusive interviews with Hollywood heavyweights such as Jake Gyllenhaal and Benedict Cumberbatch, as well as plenty of exclusive red carpet interviews with Jennifer Lawrence, Priyanka Chopra and more! ~Alexandra Heilbron
Tags:
frances mcdormand, james franco, Missouri, Morgan Spurlock, People's Choice Award, The Disaster Artist, Three Billboards Outside Ebbing, TIFF 2017, Woody Harrelson