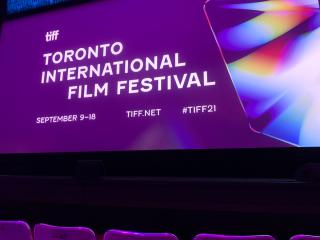 Barry Levinson's The Survivor stars Ben Foster as boxer Harry Haft, who fought to survive in WWII concentration camps. It premieres at 5:30 p.m. at Roy Thomson Hall.
Following at Roy Thomson Hall at 9:30 p.m. is the premiere of Bergman Island, starring Tim Roth and Vicky Krieps as a couple, both filmmakers, who arrive on an island where his work is celebrated while she struggles with her screenplay.
Charlotte, the remarkable true story of Charlotte Salomon, a German Jewish artist defying incredible odds to create a masterpiece during World War II features the voices of Keira Knightley, Brenda Blethyn, Jim Broadbent, Sam Claflin, and Henry Czerny. The animated film debuts at 6 p.m. at the Princess of Wales Theatre.
I'm Your Man stars Dan Stevens as an English-accented, rumba-dancing robot who is assigned to serve scientist Alma Felser (Maren Eggert). It has two showings today: At 7 p.m. at Cineplex Cinemas Markham and VIP and at 7:30 p.m. at Scotiabank Theatre Toronto.
Other films screening today include Unclenching The Fists, Ali & Ava, Yuni, Memoria, Out of Sync, Drunken Birds, Vengeance is Mine All Others Pay Cash, Comala, The Falls, Ste. Anne, 7 Prisoners, Costa Brava Lebanon, and Paka (River of Blood).
For a full schedule of what's playing today at TIFF, click here.
Click here to buy tickets for these movies and for more information. ~Alexandra Heilbron
Tags:
7 Prisoners, Ali & Ava, Bergman Island, Charlotte, Comala, Costa Brava Lebanon, Drunken Birds, I'm Your Man, Memoria, Out of Sync, Ste. Anne, The Falls, The Survivor, TIFF 2021, Unclenching The Fists, Vengeance is Mine All Others Pay Cash, Yuni