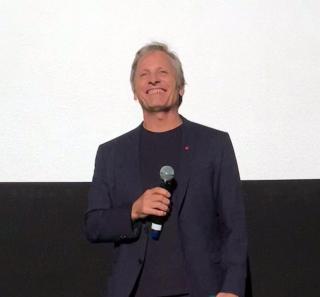 To the audience's surprise and delight, Viggo Mortensen attended the last public screening of his new film, The Dead Don't Hurt on Thursday, September 14, 2023 at Scotiabank Theatre. Usually only premiere ticket holders are treated to a talk with the director and or star of the movie, but Viggo, who was at the premiere of his film last week, stayed at TIFF for a week to make an appearance before the film and thank everyone for coming.
The theater was packed and he modestly said he'd expected only 20 or 30 people to come on a Thursday at 1 p.m. and was surprised to find a full house. He also told the audience he'd return to the stage after the screening to talk about the film and answer questions. It was a very nice perk for the fans.
The movie is a twist on westerns of yesteryear. Rather than focus on a man's life during the Wild West, The Dead Don't Hurt focuses on Vivienne (Vicky Krieps), a woman living in the 1860s and how she copes in a time when "women had to adapt to a man's world," as Viggo explained. While in San Francisco living as a flower seller, she meets a man named Olsen who has a homestead outside a small town in Nevada.
Having fallen in love at first sight, the two pick up and move to Olsen's home. When a troop of soldiers come through and announce they need men to fight for the Union in the Civil War, Olsen feels obliged to join them, leaving Vivienne alone. What happens next will have an enormous impact on both of them in a world where woman on their own are at risk.
Viggo, who went to watch movies in theaters with his mother from a young age, said he loved westerns, but that many of them weren't very good. Inspired by his mother, he wanted to show that world from a woman's point of view. To view a video clip from the event, check out our Instagram @tributemovies.
The Dead Don't Hurt is available for the TIFF People's Choice Award. If you'd like to vote for it, click here. ~Photo and article by Alexandra Heilbron
Tags:
The Dead Don't Hurt, TIFF 2023, Viggo Mortensen