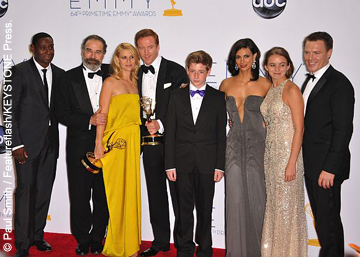 Homeland swept the Emmys, winning four awards last night and two technical awards earlier this month for a total of six. The psychological thriller upstaged some of the more established programs by winning Best Drama Series and Series Actor and Actress in a Drama for Damian Lewis and Claire Danes respectively. Damian introduced himself to the audience as "one of those pesky Brits" and later admitted he thought Breaking Bad star Bryan Cranston, who has won the accolade three times, would be victorious in the category again this year. Sitcom Modern Family took home five in total, receiving top Comedy Series as well as Emmys for Supporting Actress and Supporting Actor in a Comedy for Julie Bowen and Eric Stonestreet, while the ABC show's helmer Steven Levitan won the Director award.
Dame Maggie Smith took home Supporting Actress for her role in the British drama Downton Abbey and Jimmy Fallon won the Guest Actor in a Comedy prize for his cameo on Saturday Night Live. Two and a Half Men picked up two prizes thanks to Jon Cryer and Kathy Bates winning the Lead Actor and Guest Actress in a Comedy accolades.
Kevin Costner won Best Actor for starring in a Miniseries or Movie for his part in Civil War drama miniseries Hatfields & McCoys, while Julianne Moore won the respective Best Actress accolade for Game Change.
The ceremony - which was hosted by Jimmy Kimmel at the Nokia Theatre in Los Angeles - ended with a touching moment as Michael J. Fox, who has been battling Parkinson's disease for several years, receiving a standing ovation when he went up to present the final award of the night. He said: "I'm steady as a rock."
Selected list of winners at the 64th annual Primetime Emmy Awards:
Drama Series: Homeland
Actress, Drama Series: Claire Danes, Homeland
Actor, Drama Series: Damian Lewis, Homeland
Supporting Actor, Drama Series: Aaron Paul, Breaking Bad
Supporting Actress, Drama Series: Maggie Smith, Downton Abbey
Writing, Drama Series: Alex Gansa, Howard Gordon, Gideon Raff, Homeland
Directing, Drama Series: Tim Van Patten, Boardwalk Empire
Comedy Series: Modern Family
Actor, Comedy Series: Jon Cryer, Two and a Half Men
Actress, Comedy Series: Julia Louis-Dreyfus, Veep
Supporting Actress, Comedy Series: Julie Bowen, Modern Family
Supporting Actor, Comedy Series: Eric Stonestreet, Modern Family
Writing, Comedy Series: Louis C.K., Louie
Directing, Comedy Series: Steven Levitan, Modern Family
Miniseries or Movie: Game Change
Actress, Miniseries or Movie: Julianne Moore, Game Change
Actor, Miniseries or Movie: Kevin Costner, Hatfields & McCoys
Supporting Actress, Miniseries or Movie: Jessica Lange, American Horror Story
Supporting Actor, Miniseries or Movie: Tom Berenger, Hatfields & McCoys
Directing, Miniseries, Movie or Dramatic Special: Jay Roach, Game Change
Writing, Miniseries, Movie or Dramatic Special: Danny Strong, Game Change
Reality-Competition Program: The Amazing Race
Host, Reality-Competition Program: Tom Bergeron, Dancing With the Stars
Variety, Music or Comedy Series: The Daily Show With Jon Stewart
Writing for a Variety Special: Louis C.K., Louis C.K. Live at the Beacon Theatre
Directing, Variety, Music or Comedy Special: Glenn Weiss, 65th Annual Tony Awards
Share this story:
You Might Also Like:
| | |
| --- | --- |
| More news: Claire Danes, Damian Lewis, Emmy Awards, Emmys, Eric Stonestreet, Homeland, Jimmy Fallon, julie bowen, maggie smith, Michael J. Fox, Modern Family | |
Comments