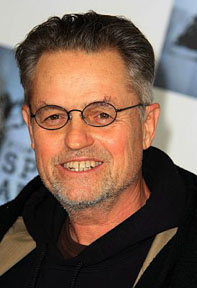 Oscar winner for the now-legendary terror show of The Silence of the Lambs (1991) and critically acclaimed for his premiere of Rachel Getting Married – which earned actress Anne Hathaway an Oscar nomination – at last year's Toronto International Film Festival, 65-year-old director Jonathan Demme is back in Toronto with only one person on his mind: legendary Canadian rocker Neil Young.
Neil Young Trunk Show, Demme's new documentary of Young's 2007 small-theater tour of North America, isn't even an official festival entry, but it's a big event in downtown Toronto, where Demme appeared at the city's mammoth Yonge and Dundas Square to meet fans and give a free public screening. Ragged, raw and shot on hand-held digital cameras, the movie chronicles a two-night stand at Tower Theater in Upper Darby, PA.
Looking almost like surveillance footage of a concert, Neil Young Trunk Show shows Young in wildly unpredictable form, moving from solo guitar and piano takes of such unreleased material as Kansas and Mexico, to a trip through the epic travelogue of his rarely performed 1974 track "Ambulance Blues," and a ripping, 20-minute slash across "No Hidden Path" – a song that wound up on Young's album "Chrome Dreams II."
Young was originally touted by festival organizers as coming to Toronto for the public screening of the new feature, which got its first showing at SXSW earlier this year in Austin, TX. But on the eve of the Toronto festival, word came down from film publicists and Young himself that he was never confirmed to appear, and wouldn't be at the square. The festival carefully regarded the no-show as "unfortunate."
As opposed to Demme's more structured, acclaimed concert films – the Talking Heads feature Stop Making Sense (1984) and Neil Young: Heart of Gold (2006) – Neil Young Trunk Show is the most intimate and unconventional documentary of a musical titan who has been captured on film innumerable times throughout his 46-year career. Demme first approached Young when he commissioned the songwriter for the heartbreaking end-title song for Philadelphia (1993), and the two first worked together on film with the five-song video release The Complex Session a year later.
The director sat down with MSN at a downtown Toronto hotel to spend some time talking about all things Neil. Here are some excerpts of the conversation.
MSN: Having seen Neil Young perform 16 times since his solo Trans tour in 1983, it's obvious that he has a plan in mind for his live shows, but it's also a given that he could change things up in an instant. Did this present you with any problems during Trunk Show filming?
Demme: Not at all. It's part of the excitement. I think what that's all about is: He and the band are on top of every song. Now, armed with that, see what happens. I've seen him in a rehearsal mode, and push, push, push to make sure that what we're doing here – in terms of rehearsal and getting familiar with the song again – is making sure that it's as good as the recorded version of it. And then we won't now try to copy that, but that's our starting-off point. I think he wants infrastructure more than structure, in a way.
MSN: A song like "Spirit Road": You know sort of where it's going to go, but that night it can end up somewhere completely different. He's not trying to throw a wrench in the works, but he's going with what he feels.
Demme: Especially with the way we shot Trunk Show, we wanted to be as loose as unpredictable as he and the band were – and as excellent. We were set up to accept and capture anything. So, the difficulty might become which night was better. And one night is always better than the other. It doesn't mean that one night's bad. But one night just always – you don't even have to think about it. You just look, and you're like: OK, Sunday! Yeah, right, right, right! Now, "Spirit Road" might be – I think there's three songs where you can wind up with a much stronger first half, but then the second half quite can't match the second half of the night that didn't start off as good. I think "Spirit Road" might combine two. We might have done a crossover there. I love that song. I'm glad you just, as an example, bring that up. I love seeing Neil running in place with his guitar, doing all this energized stuff, just presenting that song with all that physical movement. It's amazing. Neil doesn't practice in front of the mirror. (Demme laughs.) When he gets out there and he starts singing that song, and it starts building up, he's gonna move in a certain way. I just love that.
MSN: What were the differences between Neil Young: Heart of Gold, which seemed like a much more rigid presentation, and Neil Young Trunk Show?
Demme: Everything was just acutely choreographed and planned there [in Heart of Gold]. I even knew when there'd be an exchange of looks between Neil and somebody else. We were always set up to capture those incredibly valuable exchanges. Here, we were oriented in the hopes of tie-in shots. If you can get two musicians in the same frame – even if one of them's back is to you – it's better than a clean, single shot of somebody, because it's all about keeping those relationships alive. I just get a kick out of just seeing Ben Keith play electric guitar. When Neil's really going deep into his guitar solos, it's very important to take that moment and let the audience get, for a second, that Look! That other guitar is doing that!"
MSN: Is Trunk Show the most elaborate sound mix you've done?
Demme: No. In fact, when we did Heart of Gold – when I've done any of these performance films, whoever's doing them – you cut to the board mix. But then you go on to a movie mixing stage, and you break all the tracks down and you make a brand new mix that in theory is going to be the best sound tapestry and make sure you get everything right. We did Heart of Gold that way, and Neil was at the controls. But here, the more we cut to the board mix, the more I thought it would be insane and kind of against the whole vibe of this show and the film to break that up. This sounds live to me! So, we really stuck with the board mix. Ninety-five percent of what we hear now is what the people in the room heard those nights. There are a couple of places where just one of the levers wasn't up enough and we couldn't hear something. Here and there. This is essentially like a bootleg soundtrack.
MSN: In his 1979 concert film, Rust Never Sleeps – which he directed under his alias Bernard Shakey – Young is performing "Thrasher" and he loses his line. But he leaves the mistake in there. In Trunk Show, he's away from the microphone during "Like a Hurricane" and you put subtitles in for the verse that he should be singing to the audience. Was that a mistake on his part?
Demme: When he goes off-mic? He wanders over to Ben and sings without the aid of a microphone. It tickled Neil to see that he did that. He loved that we included it, and he endorsed the use of subtitles. See, that's Neil getting lost in the song. He's getting lost in the hurricane now. He's losing touch, which is one of those things that's just so great about that song. That song – the version we have, and other versions – it gets musically so lost, and so far away from that solid You are like a hurricane, from that secure foundation, that it's unimaginable that it can get back to that, that it can regain that structure once again. He goes off-mic that time. He's starting to lose it. Then he really goes off it. Even the camera starts wobbling around and stuff. Because that was kind of our response. Like, Yeah, we feel it too, man. But then he starts whoomp, boomp, building it up again.
MSN: At any concert, things aren't as clean and clear as we usually see in a film. Often, there are people in the way, lighting issues: It's like watching the show through a screen of particulate, which Trunk Show really captures.
Demme: A big, huge goal was to capture the live experience and have the movie viewer try to feel the spontaneity of a live show. That meant not having little safe places to put the camera. I wanted foreground heads. Just visually, I love foreground objects, anyway, in frames. I think most frames are a lot more interesting if there's something there. It makes it really more immediate. So, that was fun for us. We were right in there. We had a reserved seat, but we were standing right next to people and had people in front of us. And we weren't going Could you sit down? and stuff like that. Normally, we carve out. We give ourselves plenty of room. This time, we didn't want any room.
MSN: How was your camera crew able to keep on top of sudden changes, with Young roaming all over the stage?
Demme: All our people were both excellent, excellent camera people, but also six out of seven are very good guitar players. They're all Neil Young fans. So, we had the bonus of, though we didn't have our secure areas, we did have great spots, and a musician's awareness of what would happen next. And to be able to anticipate a move and go down to a guitar just when that solo's going to start. I've tried to do that before, but I've tried to program it. But here, these people just knew how to connect details in such a way that we didn't have to cut to a close-up of that. It arrived at just the right moment, and then it re-delivered somewhere else.
MSN: Neil Young is making more of his own films now – Greendale and CSNY: Déjà vu are the most recent, and he's currently working on the electric-car documentary Linc Volt – and he's not a dilettante anymore. He's a director. How is it working with him in that sense?
Demme: I think that, cinematically, I know that Neil and I have extremely similar tastes. I tend to love what he loves. Part of it is a belief in content, ultimately, over style, and that imagination trumps low budget. Just 'cause you don't have the money to do it the way maybe the one might like to do it, do it anyway and find an imaginative way to do it. Greendale certainly is an amazing example of that. He admires rich formality. Again, I think a lot of it goes back to not getting hung up on – his whole name is Bernard Shakey – but not getting hung up on Oh, that shot's kinda shaky. That camerawork's not very good because it shakes a little bit. What about what's happening in front of the camera? How are you responding to that? I feel that way, too.
MSN: How much did Trunk Show cost to make?
Demme: A lot less than a million dollars. By the time we've done everything, it's in the mid-six figures. I'm both being a little evasive, and I also don't know for sure. But it's 'way under a million dollars. I'm very proud of that, to have a full-length feature film. Heart of Gold, by the time we'd done everything, that was a big deal. We did a giant production of union, and everything like that. That was close to $2 million, that movie.
MSN: How are you going to release Trunk Show after this Toronto screening?
Demme: There's a consortium of people. The home video dimension is one thing. We're hoping – and this is looking very good – but we're hoping to have a very rich relationship with Landmark Cinemas (a 33-cinema group of independent cinemas dotting the Yukon and Western Canada). Do you know about them? They're fantastic. And they've got the audience. More and more and more, you've got to figure out different ways. Because nobody's buying DVDs. It's harder and harder to sell stuff to the cables, because they're making more and more of their own stuff. There'll be a strong video-on-demand dimension to it.
~ Seán Francis Condon