Adventureland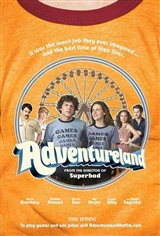 | 739 votes and 43 Reviews
Write a Review
Release Date:
DVD: August 25, 2009
1h 46m | Comedy
---
A funky, self-professedly "funtastic" Pennsylvania amusement park, Adventureland appears to be the bane of recent college graduate's James Brennan's (Jesse Eisenberg) existence. He previously had big plans to spend the summer on a life-altering trek through Europe that would initiate him into real adult life. But when his family suffers an economic downturn in the middle of the Reagan '80s, James' only summer trip is straight to a minimum wage job manning a game booth so existentially bankrupt, no one is even allowed to win the giant-ass stuffed panda.
Yet Adventureland isn't quite what it seems on the surface. For behind the cloying cotton candy aroma, the grating disco songs and the near-pathological customers, there's a whole other world of misfit friends, hidden dreams and most incredibly, after-work encounters with the alluringly sharp-tongued arcade girl, Em Lewin (Kristen Stewart). And when James discovers the hard-won courage to go to battle for Em, the result is a savagely funny yet sweetly heart-felt and unexpected encounter with "real adult life."
---