Ash is Purest White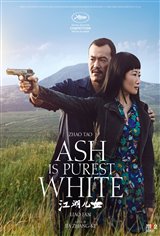 0 votes and 0 Reviews
Release Date:
March 22, 2019 - Toronto
April 5, 2019 - Edmonton
April 12, 2019 - Ottawa
2h 16m | Drama, Romance
---
Set in China's underworld, the film follows a dancer who is willing to kill to protect her mobster boyfriend.

Qiao (Tao Zhao) is a dancer. Bin (Fan Liao) is a mobster. Over the course of 17 years, they find an unlikely and violent love, living on the margins of society in their rapidly growing city. Although Qiao would like to settle down and raise a family, Bin doesn't see that a possibility, as his life is a violent one in which either of them could be killed at any moment.

When they are ambushed one night by a rival gang, Qiao take Bin's gun and fires it, as he taught her. This act of loyalty to her lover winds up with not only Bin, but Qiao arrested. She takes the heat for him, which lands her a five-year prison sentence. When she's released, she finds that Bin has moved on with another woman and her other mafia associates have gone legit. She seeks revenge, and in the process, discovers a powerful revelation.
In Mandarin with English subtitles.
---