Beat the World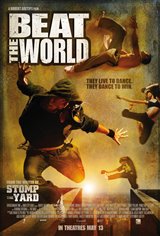 | 12 votes and 2 Reviews
Write a Review
| | |
| --- | --- |
| In theatres: | |
| On DVD: | June 21, 2011 |
| Running time: | 1h 31m |
---
BEAT THE WORLD follows three dance crews from around the world, as they prepare to do battle at the Beat The World competition held in Detroit.
Fusion is the dance crew that comes from the streets of Windsor, a city that sits across the bridge from Detroit. With the competition being held so close to Fusion's backyard, the crew's leader, Yuson (Tyrone Brown), is determined to win. With the help of Justin (Chase Armitage), he invents a fresh dance style that mashes hip-hop and parkour. Yuson's long-time girlfriend, Maya, (Mishael Morgan) is tired of being second in his life and decides to move on to pursue her own dreams. Not only does Yuson have to excel for his crew, he needs to win the contest to prove his worth to himself and to his girl.
Meanwhile, Olivia (Kristy Flores), a member of Revolution, the hottest dance crew in Brazil, hopes to escape the difficult life she leads by winning the world competition. What she doesn't know is that the head of the crew, Carlos (Shane Pollard), falls prey to an old gambling habit and loses the money for the crew's plane tickets. Without telling anyone, Carlos foolishly decides to smuggle drugs for a shady gangster to get the cash. But drug money never comes without a price and serious trouble follows Carlos and his crew to America.
When last year's champions, Germany's The Flying Steps, show up at the competition, it looks like they are ready to win again but the self-assuredness of their leader, Eric, (Christian Loclair) may become their undoing.
In a final showdown to become world champions (and win $100,000 in prize money), the three crews take on the world's best. When they finally face off with one another, lifelong hopes, dreams, and even lives are at stake.
| | |
| --- | --- |
| Director: | Robert Adetuyi |
| Studio: | Entertainment One |
| Producer(s): | Amos Adetuyi |
| Cast: | Tyrone Brown, Mishael Morgan, Nikki Grant, Sho-Tyme , Chase Armitage, Kristy Flores, Shane Pollard |
| Writer(s): | Robert Adetuyi |
---